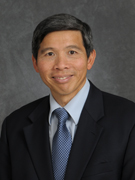 Tong Joo (TJ) Gan, MD
Professor and Chair, Department of Anesthesiology
President, Stony Brook Anaesthesiology.
The Department of Anesthesiology provides a broad spectrum of services for patients presenting to Stony Brook Medicine. These include acute pain services, pre-operative services, pain management services, and within the hospital, the anesthesia or sedation provided by our physicians for your procedure.
Your first encounter with the Department of Anesthesiology may be soon after your surgeon and you have decided that you need surgery. Your surgeon may then schedule a visit for you to our Pre-operative Services Facility. Here you may receive a variety of services that can range from simply providing blood samples that ensure normal functions, to a full history, physical exam, and an anesthesia consultation to make sure your health has been optimized for surgery. The Pre-operative Services staff is available to answer any questions that patients have regarding anesthesia during surgery. Healthier patients may not need to visit our Pre-operative Services Facility. These patients will meet our staff on the day of their procedure.
The Department provides your anesthesia through a care team concept. You will meet the attending physician/faculty member who will oversee your anesthesia. You may also meet one of our resident training physicians or a Certified Nurse Anesthetist who, together with the attending physician, will help to take care of you during your surgery. The Department is separated into sub-specialties in which our faculty members have developed special expertise. These include Ambulatory Surgery, Cardiac, Dental, General Surgery and Critical Care, Neurovascular and ENT, Obstetric, Orthopedics and Plastics, Pediatric, and Urological and Gynecological Anesthesia.
Once your surgery is completed, you will be taken to the Post Anesthesia Care Unit (PACU) where your recovery will be monitored.
The Department of Anesthesiology also runs a 24/7 acute pain service to minimize your pain after surgery. This service is also provided to patients who may not have had surgery, but whose medical condition has resulted in significant pain that the expertise of our Acute Pain Service faculty may be able to alleviate.
The Department operates the Center for Pain Management for patients with long-lasting pain from any source. Our physicians in the Center for Pain Management have expertise in many areas of pain management, varying from invasive procedures such as the highly innovative Minimally Invasive Lumbar Decompression (MILD) procedure, to alternative medicine approaches to pain such as acupuncture. In addition, the Center provides specific psychological services for patients in chronic pain. Our pain management specialists also see patients at our offices in Hampton Bays, Port Jefferson, and Smithtown.
Health care can only be improved through research. Thus, the Department of Anesthesiology has a very active research agenda. Members of our faculty have contributed significantly to the understanding of how anesthetics work, the development of drugs used for anesthesia, the potential toxicity of anesthetics, especially in very young children, the development of tools to image the brain and spinal cord, and ways to enhance our understanding of pain. All of these are directed at making surgery and anesthesia safer and better. Please consider taking part in a study run by the Department of Anesthesiology if you are approached to participate.
Thank you.
Tong Joo (TJ) Gan, MD