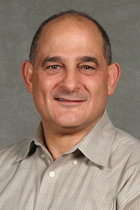 F Barry Florence MD
Chief of Ambulatory Anesthesia
The state-of-the-art 30,000 sq ft. Ambulatory Surgery Center opened in 2001. It consists of eight well-equipped operating rooms, each capable of supporting any type of ambulatory surgery. Approximately 8500 cases were performed at the Ambulatory Surgery Center last year. The Ambulatory Center has been in the top 3% ambulatory centers in its class throughout the entire USA for patient satisfaction. We have accomplished this five years in a row.
Most surgical specialties are represented at the center. We welcome surgeons from the university as well as from the surrounding communities. We perform some quite complex and lengthy procedures on an out-patient basis. Patients enjoy the privacy of their own pre-operative waiting rooms and families are permitted to be together in the recovery room.
The Center is particularly well suited for pediatric surgery with a dedicated pre-operative play area and a specialized recovery area for children. There is barely a day here without lots of children accompanied by their anxious parents and grandparents running around the facility.
Many pain management procedures are also performed at the center. These vary from very complicated nerve stimulation trials, radiofrequency nerve ablations, ultrasound guided nerve blocks, to the usual therapies for lower back and neck pain. This service is supported by our own pain physicians, community pain physicians and a psychiatrist.
We have a lithotripsy service where renal stones are treated very successfully.
---
Division Members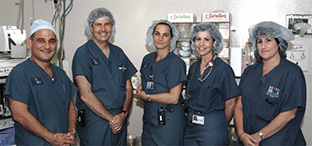 There are six full time Ambulatory anesthesiologists. We are supported by a dedicated group of anesthesiologists who rotate between the hospital and ambulatory center. All attending anesthesiologists are board certified.
F. Barry Florence, MD is Chief of the Division. He was fellowship-trained in pediatric anesthesia and previously worked in a private practice ambulatory setting.
Christine Cokinos, MD has abundant experience in competitive private practice settings. Her special interest is in office based anesthesia.
Martin Redmond, MD is the Assistant Medical Director of the Ambulatory Division. He is experienced in pediatric and regional anesthesia.
Eleanor J. Romano, DO is an Assistant Clinical Professor Ambulatory Anesthesia and Office Based Anesthesia.
Andrea K. Voutsas, MD is Board Certified Internal Medicine. She was the former Director of the Post-Anesthesia Care Unit in the main hospital, and former Chair of the University Hospital Code Blue Committee.
Paul H. Willoughby, MD is the 2010 President of NYSSA. He lectures nationally on ultrasound guided nerve blocks and on the business of regional anesthesia. He has authored numerous articles and book chapters and was the former Director of the Acute Pain service for the main hospital.