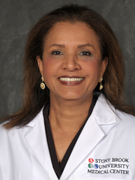 Bharathi H. Scott, MD
Chief of Cardiothoracic Anesthesia
The division of cardiothoracic anesthesiology comprises six full time board certified and fellowship trained faculty members whose clinical practice focuses on cardiothoracic anesthesiology. Our mission is to provide high quality, safe and professional clinical care, educate residents, medical students and participate in basic and clinical research.
Stony Brook University Medical Center serves as a tertiary care referral center and is the only hospital in Suffolk County providing cardiac surgery services. We perform approximately 600 cardiothoracic procedures per year; many of these are on critically ill patients. We provide care to wide variety of cardiac and thoracic surgery patients which includes:
On and off pump and Robotic surgery for patients with ischemic heart disease
Aortic, mitral and tricuspid valve surgery including minimally invasive procedures
Aortic surgery, pulmonary and esophageal resections
---
Division Members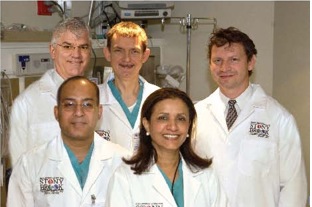 Bharathi Scott, MD is Chief of the Division. Her research interests include blood transfusion during cardiac surgery, morbidity and mortality in octogenarians undergoing bypass surgery and gender differences in resource utilization in cardiac surgery.
Igor Izrailtyan, MD is an expert in cardiac physiology. He organizes and presents seminars to the residents on the use of TEE in the operating room. He is a co-investigator on PET/MRI studies of placental blood flow.
Slawomir Peter Oleszak, MD is Director of the Resident Airway rotation. He has active research protocols concerned with new approaches for the placement of double lumen endotracheal tubes and other new airway devices.
Syed Shah, MD is the Associate Director of the Operating Room and is involved in operating room administrative activities.
Thomas F. Floyd, MD joined the Cardiac team in August 2010. In addition to his clinical expertise, he does clinical and basic science research in the area of aging and stroke both in the heart and brain.
Renata Kowal, MD is the newest member of the Cardiac team. She is a graduate of Stony Brook University Medical School, did her Residency training in our department and did a Fellowship in Cardiothoracic Anesthesiology and Perioperative TEE at the Cleveland Clinic Foundation.

Patient Information: Anesthesia for Cardiothoracic Surgery