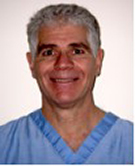 Ralph Epstein, DDS
Program Director
The overall mission of the dental anesthesia residency program is to train dentists in all aspects of anesthesiology in order to provide them with an appropriate foundation for the administration of anesthesia and pain control for dental patients.
Upon completion of the two-year program, the residents will have the competency and proficiency to provide sedation and general aesthesia, in the inpatient and office-based settings, to the general adult population along with pediatric and geriatric patients. This program will provide a special emphasis in the treatment of patients with special needs, i.e., autistic and the developmentally disabled. The residents will also be trained to treat patients with acute and chronic pain syndromes.
Because of the University's high regard for excellence in teaching and research, the selection process will look for prospective residents who have an interest in part-time or full time teaching at the completion of their residency program. To this end, the residents, in their second year, will help teach anesthesia and pain control to the pre-doctoral students, post-graduate students/residents in the following programs, i.e., endodontics, GPR, oral and maxillofacial surgery, pediatric dentistry and periodontology. They will also assist in teaching continuing education programs to the professional community of the Greater Long Island Region.
Visit us here.
Ralph Epstein, DDS is the Program Director.