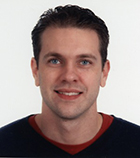 Stephen Probst, MD
Chief of Neuroanesthesia/ENT Anesthesia
The Division of Neuroanesthesia/ENT Anesthesia comprises seven full-time faculty members. We care for over 1000 patients per year in the neuro-operating rooms and the neuro-interventional suite. Our Mission is to provide world class perioperative care to patients presenting for neurological surgery, cerebrovascular intervention and ENT surgery while developing faculty research, education, and continuous quality improvement.
Stony Brook Medical Center is the only tertiary center for neurosurgery and interventional neuroradiology in Suffolk County. Three years ago, we welcomed Dr. Henry Woo, an interventional neuroradiology/neurosurgeon, and this past year, Dr. David Fiorello joined Dr. Woo's service. Their cutting edge techniques have required the Division to introduce a new and innovative practice protocol.
Dr. David Schessel, a world renowned expert on audiology has recently assumed Directorship of the Division of Otolaryngology in the Department of Surgery. The Division of Neuroanesthesia/ENT Anesthesia provides care during more than 500 procedures per year performed by this surgical service.
---
Division Members
Stephen Probst, MD was appointed Chief of the Division of Neuro/ENT Anesthesia in January 2011. He completed his medical training and anesthesia residency at Stony Brook. He is the Section Chief of Cerebrovascular Anesthesia and represents the Division on the Executive Committee and Finance Committee.
Thomas Corrado, MD is Director of ENT Anesthesia. He serves on the departmental Resident Education Education Committee.
Lauren Fleischer, MD has been a member of the Neuro/ENT division for over 15 years, after completing both residency and fellowship on Neuroanesthesia at Columbia-Presbyterian. She is the Division's representative on the QA Committee.
Christopher Page, MD, after completing his residency here at Stony Brook and then working as an attending physician for one year, went to Columbia-Presbyterian for a fellowship in acute pain management. He is the Director of Open Intracranial Surgery and Co-Director of Cerebrovascular Anesthesia. In addition to his responsibilities as a member of the Division, Dr. Page is also the Chief of the Division of Acute Pain Management.
Ira J. Rampil, MD is Professor of Anesthesiology. In 1993, Dr. Rampil made the seminal observation that surgical immobility (lack of movement response to surgical incision) was mediated by spinal sites, not in the cerebrum. He has been a pioneer in the development of EEG techniques for anesthesia. He is Director of Research and Faculty Development for Neuroanesthesia and serves on the Research Committee.
Matthew Tito, MD is the Director of Neurospinal Anesthesia.