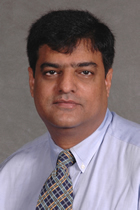 Syed Ali Azim, MD
Chief of Orthopedics and Plastics Anesthesia
The Division of Orthopedics and Plastics Anesthesia consists of five full-time faculty members. The team works closely with the Acute Pain Service and the surgeons to assure that the patient's entire perioperative experience is pleasant. The division places patient safety, comfort, and satisfaction as its number one clinical priority. We serve a large patient population requiring total joint replacement, adult spine surgery, elective orthopedic trauma surgery, sports medicine and hand surgery and variety of Plastic surgeries.
The division includes regional anesthesiologists trained in the delivery of state-of-the-art neuroaxial and peripheral nerve blocks for improved patient care.
The division is proud to have participated in the care of a patient who had both hands reattached in an 11 hour surgical procedure after an industrial accident. This case gained both national and international publicity, demonstrating the excellence of care provided here at Stony Brook University Hospital.
---
Division Members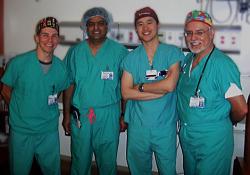 Syed Ali Azim, MD is the Chief of the Division.
Xiaojun Guo, MD is Clinical Assistant Professor of Anesthesiology. He has been a member of the department since 2000.
Sinha Monsur, MD, in addition to his clinical responsibilities, runs the popular "Dr. Sinha's Oral Board Review Course."