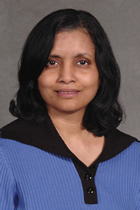 Rishimani Adsumelli, MD
Chief of Urologic/Gynecologic Anesthesia
The division of Gynecologic and Urologic Anesthesia consists of five core faculty members. In addition Drs. Saunders and Lokshina are actively involved in the activities of this division.
The Urology department at Stony Brook Medical Center is ranked among the top 50 in the "America's Best Hospitals" August 2009 issue of U.S. News & World Report. The prestigious robotic prostatectomy program began in 2007. We do approximately 100 Robotic prostatectomies per year. We also have the most active renal transplant program on Long Island with 20 living donor and 60-70 cadaver kidney transplants performed annually. The Gynecological department performs 200 abdominal hysterectomies, 100 laparoscopic hysterectomies, 25 robotic laparoscopic hysterectomies per year. The Gynecological Oncology division is very active and performs very complicated tumor removal procedures.
---
Division Members
Rishimani Adsumelli, MD is chief of the Division. Her research interests include, maternal hemorrhage and preterm labor. She serves as co-director for resident research and advises residents in writing abstracts and making presentations at national meetings.
Michelle DeLemos, MD is also an active member of Acute Pain division. She is very involved in residency administration with special emphasis on PGY-1 residents and the residency interview committee.p>
Ursula Landman, MD is the director of education for the division and the organizer of departmental monthly journal clubs. She plays a pivotal role at national level in the realm of education. She chairs the Education Committee of The American Osteopathic College of Anesthesiologists and was the Program Chair for their 2009 annual meeting in Williamsburg, VA.
Mihai Sadean, MD is in charge of QA in the division. At departmental level he organizes the weekly conferences and grand rounds.
Tracie Ann Saunders, MD is also a member of the Obstetrics Division.
Neera Tewari, MD divides her time between Ambulatory Anesthesia and the our division. She has strong interest in improving the awareness of issues involving addiction among anesthesia residents.