"Achievements in HealthCare" Award
11/13/2008
Stony Brook University Medical Center's Code H Team was recognized during Long Island Business News' annual "Healthcare Heroes" awards ceremony, as the winner in the "Achievements in Healthcare" category.
Dr. Michael Lydic
, Reproductive Endocrinologist and School of Medicine Clerkship Director for OB/GYN was selected as a finalist in the Physician Hero category.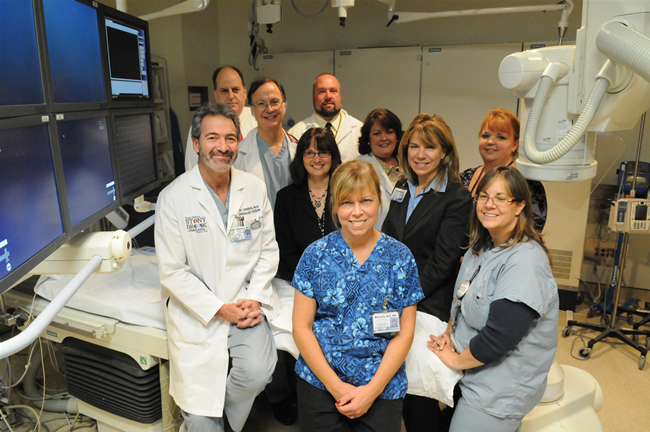 Members of the Code H Team (from left) in the Heart Center Cardiac Catheterization Lab at Stony Brook University Medical Center: Dr. Luis Gruberg, Eric Niegelberg, Dr. William Lawson, Carol Gomes, Mike Davison, RN, Beverly Gill, RN, Eileen Dowdy, RN, Lisa Sokoloff, RN, Lisa Wilbert, RN and Theresa Leonard, RN.
Healthcare Heroes is an annual award program to recognize excellence, promote innovation, contribute to the enhancement of the value and quality of health care and, ultimately, recognize the men, women and organizations whose tireless work, contributions and dedication to healing and caring ensure the well-being of everyone on Long Island. The "Code H Lifesaving Initiative Team" was selected for its interdisciplinary and methodical initiative to reduce door-to-balloon catheterization time to well below the American College of Cardiology and American Heart Association guidelines of 90-minutes.
"Being selected for 'Achievements in Healthcare' is indeed an honor, because the Long Island medical community offers many innovative healthcare programs and services," said Dr. Steven L. Strongwater, CEO of Stony Brook University Hospital."It is also a well deserved honor, because this life saving -- and heart saving -- team is truly dedicated and continues to improve."
A study sponsored by the National Heart, Lung and Blood Institute published in the March 2007 issue of Circulation showed that 80% of people live within an hour's drive of a hospital that provides balloon angioplasty, yet only about one-third of heart attack patients get angioplasty within the 90-minute window. The study surveyed 365 hospitals to determine what procedures they have in place to get patients angioplasty quickly. Only 35% report an average door-to-balloon time of 90 minutes or less.
At Stony Brook, the need for a more direct and simplified system to provide emergency revascularization was addressed by applying the traditional Trauma Code (Code T) concept to Acute MI. Initiated on October 17, 2003, Code H uses specific methodology to improve organizational processes including implementation of a simultaneous paging system to alert the care team, working from a standardized checklist of procedures and precautions, and collecting baseline data to identify the performance gap based on the target of 90 minutes, starting when the patient arrives in the emergency department and ending when the balloon is inflated.
"Through Code H, and because of this team of dedicated clinicians that includes EMS workers, nurses, physicians, fellows, residents, and other healthcare institutions and hospitals in our communities, we have successfully reduced our response time from 448 minutes in 2003 to 71 minutes at present," said
Dr. William Lawson
, Professor of Medicine and Director, Cardiac Outcomes Research at Stony Brook University Medical Center, who has had an integral role in developing and facilitating Code H. "Code H saves lives, and everyone involved can take credit for that."
Healthcare Heroes winners were selected by a steering committee of leaders directly involved in health care on Long Island who read through nominations and all material, discussed each candidate's qualifications, and decided on awardees. Judges choose up to five finalists and cast a ballot for a winner in each of the categories.