CAMP ADVENTURE: FUN IN THE SUN FOR SBUMC PEDIATRIC CANCER PATIENTS AND SIBLINGS
7/16/2009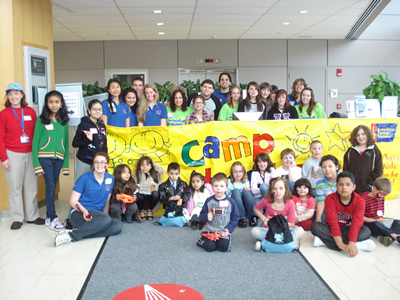 Some of the SBUMC pediatric cancer patients, their siblings, and SBUMC staff of Pediatric Hematology/Oncology, gathered during "A Day at Camp," a one-day preview of the American Cancer Society-sponsored Camp Adventure that takes place this August for kids with cancer and their siblings.
From August 15 to August 21, on the grounds of Camp Quinipet on Shelter Island, 21 pediatric cancer patients treated at Stony Brook University Medical Center, along with 24 of their siblings and SBUMC physicians and staff of the Division of Pediatric Hematology/Oncology, will gather for a week of summer fun and activities. Sponsored by the American Cancer Society (ACS), "Camp Adventure" for 20 years has provided a needed respite for kids with cancer, who can simply be kids and enjoy everything from swimming to nature walks, scavenger hunts, and arts and crafts.
The medical team of the SBUMC Division of Pediatric Hematology/Oncology has participated in Camp Adventure since the inception of its program in 1991. While numerous hospitals in the region support and send their patients to Camp Adventure, a significant portion of the campers each year are represented by SBUMC staff, patients, and their siblings.
"Camp Adventure is just what the doctor ordered for children undergoing treatment for cancer," says
Robert I. Parker, M.D.
, Chief, Division of Hematology/Oncology at SBUMC, the Consulting Pediatric Oncologist and Medical Director for Camp Adventure. "The activities are wonderful, our patients benefit greatly from the experience, and the week-long camp is great refreshment for everyone involved. A unique feature of Camp Adventure is that both patients and their siblings attend camp giving the parents a needed break as well."
This past spring SBUMC held "A Day at Camp" for patients and their families. More than 15 families, including more than 70 children, along with former campers, and Camp Adventure and SBUMC staff, gathered at SBU Cancer Center to enjoy games, face painting, and other activities such as hoola hoop and a pie-throwing contest. The day also featured an informative video about Camp Adventure and a question/answer session for parents and children about the camp experience and how special needs of the children are addressed.
According to the ACS, campers attend free of charge and transportation is provided. Children ages 6 to 18 years, either on or off treatment, and their siblings can apply. Families from Long Island, New York City, New York State and New Jersey are eligible to participate.
Families interested in sending their child or children to the 2010 Camp Adventure or future ones should contact the ACS nationally at 1-800-ACS-2345, or locally at 631-300-3164, or 631-300-3186, or visit www.cancer.org/campadventure.