FOUR SBU SCHOOL OF MEDICINE FACULTY RECOGNIZED FOR OUTSTANDING EFFORTS IN MEDICAL EDUCATION
6/15/2010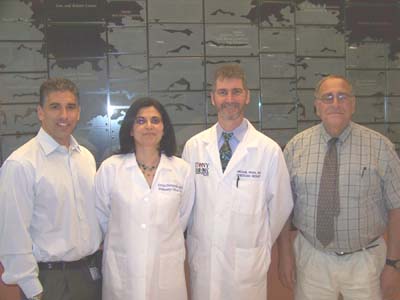 Award recipients from left to right; Dr. David Cohen, Dr. Feroza Darwoolla, Dr. Michael Pearl and Dr. Roy Steigbigel.
Stony Brook University School of Medicine Professors and physicians Drs. Roy Steigbigel, David Cohen, Michael Pearl and Feroza Daroowalla are the 2010 recipients of the Aesculapius Award, the most prestigious award given to faculty by the School of Medicine for outstanding teaching accomplishment.
Initiated in 1991, the Aesculapius Award is presented by the Dean of the School of Medicine at the end of the academic year to emphasize the importance of excellence in education to the success of the School and to recognize the most outstanding teachers. The award carries a $1,000 prize. Recipients are honored with their names inscribed on a plaque in the Dean's Office.
"These four individuals have been recognized by their peers and students for the excellence of their instructional effort, their role in curricular development, and their contributions to the general teaching program in the School of Medicine," says Richard N. Fine, M.D., Dean of the School of Medicine.
Award recipient
Roy T. Steigbigel, M.D.
, Professor of Medicine, Molecular Genetics and Microbiology, Pathology, and Pharmacological Sciences, is also Director of the HIV Treatment Development Center at SBUMC. A member of the faculty for 27 years, Dr. Steigbigel specializes in Infectious Diseases and has led research and clinical trials in the areas of host defense mechanisms, with an emphasis on mechanisms of immune dysfunction induced by HIV infection pathways by which HIV enters human cells. Work at the Center revolves around new therapies for people with HIV infection with analysis of restoration of immune system by these therapies.
Michael L. Pearl, M.D.
, is a Professor of Obstetrics, Gynecology and Reproductive Medicine, and the Director of the Division of Gynecologic Oncology at SBUMC. He has been selected as one of the Top Doctors in the New York Metro area in Gynecologic Oncology on several occasions. Appointed to SBUMC in 1994, Dr. Pearl serves on many SBUMC advisory committees, including the Cancer Committee and serving as the Chairman of the Committee on Research Involving Human Subjects. He supervises an active research program, including as the Principal Investigator for the National Cancer Institute-funded Gynecologic Oncology Group and collaborates with basic scientists in the Departments of Medicine, Surgery and Pathology.
Feroza Daroowalla, M.D., M.P.H.
, is a Clinical Associate Professor of Medicine at SBUMC. She specializes in Internal Medicine, Pulmonary and Critical Care Medicine. She is board certified in these areas as well as in Occupational Medicine. She is in charge of the third and fourth-year inpatient medical student activities in the Department of Internal Medicine and directs and teaches in several second-year medical school courses.
David B. Cohen, M.D.
, practices Emergency Medicine at Peconic Bay Medical Center and has been on the SBUMC faculty since 2002. At Peconic Bay, Dr. Cohen works with medical students during their first and second years as part of the Introduction to Clinical Medicine course and training. He also works with third and fourth-year students during their rotations in Emergency Medicine.
Stony Brook University School of Medicine's Aesculapius Awards are named after Aesculapius, who was a Greek and later Roman God of Medicine. His healing power was so strong he raised people from the dead.