RENOWNED COMMUNITY CARDIOLOGIST JOINS SCHOOL OF MEDICINE FACULTY AT STONY BROOK UNIVERSITY
12/23/2010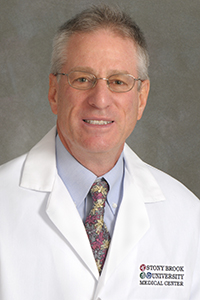 Long-established community-based cardiologist, Lloyd Lense, M.D., has joined the Division of Cardiology as an associate clinical professor in the School of Medicine at Stony Brook University, effective Jan. 1. The announcement was issued by
Luis Gruberg, MD,
Interim Chief, Division of Cardiovascular Diseases and Director of the Cardiovascular Catheterization Laboratories at Stony Brook University Medical Center.
As a full time faculty member,
Dr. Lense
will treat inpatients at Stony Brook University Hospital and see patients at two Cardiology outpatient office locations: 26 Research Way in East Setauket and at 3001 Expressway Drive North in Islandia.
"So many good things are happening at Stony Brook; I wanted to be in an environment where I can contribute in terms of practicing medicine as well as to the teaching mission here," said Dr. Lense. "With Stony Brook's goal to expand outreach endeavors around patient education with respect to primary and secondary prevention, this was a wonderful opportunity and just the right time to make this change."
Founder and former president of Three Village Cardiology in East Setauket, one of the most prestigious private cardiology practices in the area, Dr. Lense is an Alpha Omega Alpha graduate of the New York University School of Medicine and a trainee of Mount Sinai Hospital in New York (internal medicine) and Montefiore Hospital and Medical Center (cardiology). Board certified in cardiovascular disease and a Fellow of the American College of Cardiology, he has served as voluntary faculty at Stony Brook University Hospital since 1983. He has appeared in "Castle Connolly Best Doctors in the New York Area" for the past 13 years (1997 – 2010); and in 2006 received the AOA Volunteer Clinical Faculty Award Stony Brook School of Medicine. Dr. Lense served as Vice President (2008) and President (2009-10) of the Medical Staff at John T. Mather Memorial Hospital where he also served as Chairman of the Medical Board (2009-10); he was a recipient of the Nassau-Suffolk Hospital Council's Theodore Roosevelt Award from Mather Hospital in 2010.
"Lloyd has earned the respect and admiration of colleagues in the community because of his dedication and the quality of care delivered to his patients," said Dr. Gruberg. "He also has been a devoted teacher of third-year medical students for the School of Medicine."
Dr. Lense lives in Setauket with his wife, Susan Lense; they have three adult children.
For more information, or to make an appointment with Dr. Lense, contact Stony Brook University Hospital HealthConnect at 631-444-1069.
About the Heart Center at Stony Brook University Medical Center
The Heart Center at Stony Brook University Medical Center is located within Long Island's only university-based medical center. The Heart Center at Stony Brook offers a comprehensive, multidisciplinary program for the prevention, diagnosis and treatment of cardiovascular disease. The staff includes 50 full-time and community-based, board-certified cardiologists and cardiothoracic surgeons, as well as 350 specially trained anesthesiologists, nurses, physician assistants, nurse practitioners, respiratory therapists, operating room technicians, perfusionists, and other support staff. Their combined expertise provides state-of-the-art interventional and surgical capabilities in 24-hour cardiac catheterization labs and surgical suites. And while the Heart Center clinical staff offers the latest advances in medicine, its physician-scientists are also actively enhancing knowledge of the heart and blood vessels through basic biomedical studies and clinical research. http://stonybrookheartcenter.org/
About Stony Brook University Medical Center
Stony Brook University Medical Center is Long Island's only university-based academic medical center. It serves as the region's only tertiary care center and Level 1 Trauma Center, and is home to the Stony Brook University Heart Center, Cancer Center, the Stony Brook Long Island Children's Hospital, the Institute for Advanced Neurosciences, and the Gastroenterology Program. Stony Brook provides Suffolk County's only Level IV Regional Perinatal Center, Level III Neonatal Intensive Care Unit, state-designated AIDS Center, state-designated Comprehensive Psychiatric Emergency Department, ALS Center of Excellence, and Kidney Transplant Center. It is home of the nation's first Pediatric Multiple Sclerosis Center. To learn more, visit www.stonybrookmedicalcenter.org.