DR. MARGARET MCGOVERN ELECTED CHAIR OF CLINICAL PRACTICE MANAGEMENT PLAN FOR STONY BROOK MEDICINE
4/5/2012
Physician-in-Chief of Stony Brook Long Island Children's Hospital welcomes new challenge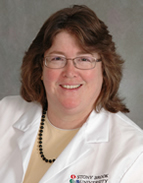 Margaret M. McGovern, MD, PhD
, Professor and Chairman, Department of Pediatrics, Stony Brook University School of Medicine, and Physician-in-Chief, Stony Brook Long Island Children's Hospital, has been elected Chair of the Governing Board of the Clinical Practice Management Plan (CPMP) at Stony Brook Medicine.
As Chair, Dr. McGovern will preside over the meetings of the CPMP board and the board's Executive Committee. The CPMP Governing Board is responsible for ensuring that the plan properly manages and accounts for funds in its care. CPMP was established by the SUNY Board of Trustees to manage clinical practice income earned from fees for professional services.
"I look forward to working with the CPMP Board, its committees, staff, and membership to advance our organization and to meet the challenges that lie ahead," said Dr. McGovern.
"Peg McGovern will be a strong leader and advocate for greater unity across the entire medical enterprise represented by Stony Brook Medicine," said Ken Kaushansky, M.D., Senior Vice President, Health Sciences, and Dean, Stony Brook University School of Medicine. "She is an excellent choice for this key leadership role as we build upon our strong foundation in clinical care, research and education."
Dr. McGovern joined Stony Brook University in 2007 as Professor and Chair of the Department of Pediatrics. Previously, she served at the Mount Sinai School of Medicine as Professor of Human Genetics and Pediatrics as well as Vice Chair of the Department of Human Genetics. She has served as Physician-in-Chief of Stony Brook Children's since June 2010. Over the last five years, she has recruited many outstanding clinical and research faculty to meet the comprehensive needs of Stony Brook Children's.
Dr. McGovern has been recognized in Castle Connolly's Top Doctors lists for her work in clinical genetics and was named "Woman of the Year" in 2011 by the Village Times Herald for her expertise, passion, and insistence on high standards in the care of pediatric patients. A resident of Huntington, N.Y., she is a Distinguished Alumna of Stony Brook University.
###
About Stony Brook Long Island Children's Hospital:
Established in June 2010, Stony Brook Long Island Children's Hospital is Suffolk County's only children's hospital. More than 7,000 children and adolescents are admitted each year. Stony Brook Children's operates 100 pediatric beds and has more than 100 full-time pediatric physicians and surgeons and over 200 voluntary pediatric faculty members in 30 different specialties. The hospital is the Level 4 Regional Perinatal Center for our area and has a Level 3 Neonatal Intensive Care Unit. It is home to the nation's first Pediatric Multiple Sclerosis Center and also offers a Pediatric Hematology/Oncology Program, Pediatric Cardiology Program, Pediatric HIV and AIDS Center, Cystic Fibrosis Center and the Cody Center for Autism and Developmental Disabilities. To learn more, visit
www.stonybrookchildrens.org
.