STONY BROOK CEREBROVASCULAR SPECIALIST SELECTED AS A "HEALTH CARE HERO"
11/28/2012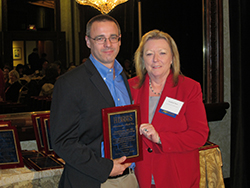 Long Island Business News honors Dr. David Fiorella with Achievements in Health Care Award
Stony Brook Medicine's
Dr. David J. Fiorella
has been selected as a recipient of the 2012 Achievements in Health Care Award by the Long Island Business News. The award recognizes healthcare professionals for the development of a new procedure, treatment, or device that can save lives or improve quality of life.
Dr. Fiorella, a Professor of Clinical Neurosurgery and Radiology whose research interests include the development of novel therapies for cerebrovascular diseases, was honored by the organization for "his work with cutting-edge medical devices and procedures to treat aneurysms and stroke," according to the LIBN.
"Dr. Fiorella is leading physician and researcher in the field of neurointerventional radiology, and his research and work on the development of devices to treat cerebrovascular disease is world-class," said
Dr. Raphael P. Davis
, Chair of the Department of Neurological Surgery and Co-Director of the Institute of Advanced Neurosciences. "His expertise and skills have been essential to bringing new and innovative procedures to the Cerebrovascular and Stroke Center that help us save lives."
At Stony Brook, Dr. Fiorella has led the clinical development and evaluation of flow diverters for the treatment of large, giant and wide-necked aneurysms. He was one of the first physicians in the world to use the pipeline embolization device, a stent-like structure that diverts blood flow to treat inoperable brain aneurysms.