BAY SHORE MAN DONATES KIDNEY FOR CHILDHOOD FRIEND'S HUSBAND AFTER LEARNING ABOUT PLIGHT VIA FACEBOOK
1/11/2013
Stony Brook University Hospital doctors perform lifesaving procedure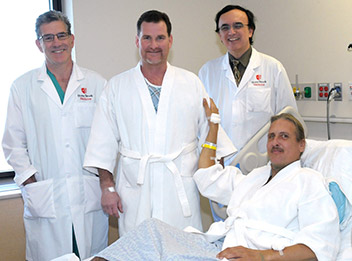 Left to right are
Wayne Waltzer, MD, FACS, Director
, Kidney Transplantation Services at Stony Brook University Hospital (SBUH), kidney donor Dan Sullivan,
Frank S. Darras, M.D.
, Medical Director of Transplantation Services at SBUH, and kidney recipient Karl Bzdyk.
Lenore Bzdyk and Dan Sullivan have stayed in touch since their days attending Bay Shore Middle School in the 1970s. Both married, had families and stayed in Bay Shore, attending periodic school reunions over the years. Never did they dream that their childhood relationship might lead to a lifesaving kidney donation.
On Jan. 8, Sullivan did exactly that, donating one of his kidneys to Lenore's husband, Karl Bzdyk, after learning of Karl's condition via Lenore's Facebook page last fall. According to doctors, the donation came just in time for Bzdyk, whose kidneys were failing due to his Type I diabetes. Now he is expected to lead a much more active life, with a fully functioning kidney.
"I feel great," Bzdyk said from his hospital bed at Stony Brook University Hospital (SBUH) on Jan. 10, three days after the surgery. "It's a new life…. It's a new year. It's a great new year."
"He's a superhero and a great friend," Lenore said of Sullivan. "He's just truly amazing. He's one of a kind."
The donor surgery was performed by
Frank S. Darras, M.D.
, Professor of Urology at Stony Brook University School of Medicine, and Medical Director of Transplantation Services for the Urology Department at SBUH, who removed Sullivan's kidney laparascopically.
Wayne Waltzer, MD, FACS
, Professor and Chairman of the Department of Urology, and Director, Kidney Transplantation Services at SBUH, performed the transplant surgery. He said the procedure "promptly and dramatically relieved" many of Bzdyk's symptoms of kidney failure.
Sullivan, age 48, discovered he was a potential donor for Bzdyk, age 49, in October. Over the next two months, he went through a battery of tests to make sure he was cleared physically for the surgery. Sullivan is expected to lead a normal life with one kidney, which will function at 70-80 percent of two kidneys' capacity within a year.
Sullivan said he was only doing what others would do in the same situation if circumstances were reversed. "I figured if any of us were ever in need, they [the Bzdyks] would do that for us," he said. The benefits of his generous act were instantly visible. "I saw him [Bzdyk] right after surgery, and he looked like a different person," Sullivan said.
"Who would have thought that a boy that I met in seventh grade would turn out to do this," Lenore said. "It's a miracle. I'm so overwhelmed and so happy."
"I got the gift of life," Bzdyk said. "Danny is the hero."
About the Kidney Transplantation Program at Stony Brook Medicine:
Stony Brook University Hospital (SBUH), part of Stony Brook Medicine, provides a unique combination of research, teaching and healing. As part of the State University of New York, SBUH is home to the longest active transplant program on Long Island. Its multi-disciplinary transplant team consists of surgeons, nephrologists, coordinators, nurses, laboratory personnel, social workers, financial counseling and an administrative staff, all dedicated to providing the renal patient with quality care. All members of the team work hard to ensure that the experience at SBUH Transplantation Services is a great one with a great outcome. The Transplant Surgeons at SBUH have performed over 1,350 kidney transplants with a success rate that stands at 90% at one year.
About Stony Brook University Hospital:
Stony Brook University Hospital (SBUH) is Long Island's premier academic medical center. With 597 beds, SBUH serves as the region's only tertiary care center and Level 1 Trauma Center, and is home to the Stony Brook Heart Institute, Stony Brook Cancer Center, Stony Brook Long Island Children's Hospital, Stony Brook Neurosciences Institute, and Stony Brook Digestive Disorders Institute. SBUH also encompasses Suffolk County's only Level 4 Regional Perinatal Center, state-designated AIDS Center, state-designated Comprehensive Psychiatric Emergency Program, state-designated Burn Center, the Christopher Pendergast ALS Center of Excellence, and Kidney Transplant Center. It is home of the nation's first Pediatric Multiple Sclerosis Center. To learn more, visit www.stonybrookmedicine.edu.