FAMILY SINGS THE PRAISES OF STONY BROOK SURGERY TEAM Recovering from cancer and a 20-hour reconstructive surgery one year ago, Long Island girl performs at Carnegie Hall
3/18/2013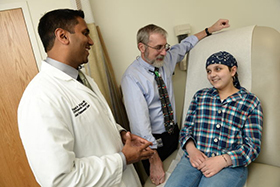 Drs. Fazel Khan, left, and Robert Parker meet with Veronica Franco at the Stony Brook University Cancer Center.
For 11-year-old Veronica Franco, music has always been a passion. The Rocky Point, N.Y., native loves playing cello and singing in the choir at Rocky Point Middle School. Her outstanding singing ability has garnered her recognition: Veronica earned a coveted spot in the
Metropolitan Youth Orchestra (MYO)
children's chorus and performed at Carnegie Hall on March 16.
Veronica has much to be optimistic about right now, but things weren't always bright for the young musician. It was only one year ago that she underwent a grueling 20-hour operation to remove a life-threatening tumor and reconstruct her pelvis. But Veronica's tale has soared to a high note: A Stony Brook surgery team led by orthopaedic oncologist
Dr. Fazel Khan
not only helped save her life, it also set her on a path to recovery. Now Veronica is back at school and immersed in the life she left behind 18 months earlier.
It began in September 2011 when Veronica had just entered the fifth grade; she was suffering from constant pains in her left hip and leg. Her family brought her to
Dr. James Barsi
, an orthopaedic surgeon at Stony Brook Medicine, who ordered a series of imaging tests that revealed a mass on Veronica's left pelvis. Following a biopsy by Dr. Khan, it was determined that Veronica had Ewing's sarcoma, a rare and dangerous form of bone cancer that usually affects children and adolescents.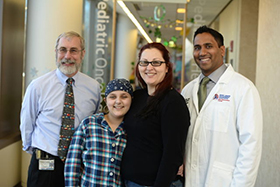 Veronica Franco and her mother, Joanna Franco, have a lot to smile about one year after Veronica's 20-hour cancer and reconstructive surgery. Pictured with them are Drs. Robert Parker, left, and Fazel Khan.
Dr. Khan and
Dr. Robert I. Parker
, Director of Pediatric Hematology/Oncology at Stony Brook, created a treatment plan for Veronica that included several rounds of chemotherapy to shrink the tumor, a standard treatment approach for Ewing's sarcoma. The chemo helped reduce the size of the tumor, but not enough. The tumor's location next to the hip joint and the dimension of the lesion presented definite barriers toward a positive outcome.
"Too much excision on one side would remove a portion of the hip joint along with the tumor but could cause Veronica to lose mobility in her leg," said Dr. Khan. "Too much excision on the other side would leave a portion of the tumor intact and increase the chance the cancer would spread."
With this in mind, Drs. Khan and Parker presented Veronica and her family with two options: radiation therapy to continue shrinking the tumor or surgery to remove the cancer. The decision was made in late February 2012 to perform the surgery.
Dr. Khan, a leader in computer-navigated technology in the surgical treatment of cancer assembled a surgical team that included orthopaedic, trauma, oncologic and plastic surgery specialists to remove the tumor, reconstruct Veronica's pelvis with her own healthy bone, and stabilize her hip. His 'team' also included a new surgical computer-navigated technology that maps the entire surgical procedure and involves CT scanning and other technology to pinpoint precision.
Using the computer-navigated technology, Dr. Khan removed the portion of Veronica's pelvis affected by the cancer, sparing her hip joint.
Dr. Kevin Watkins
, a Stony Brook oncologic surgeon and specialist in upper gastrointestinal tract cancers, assisted in excising the malignant tissue and ensured that the GI region close to her hip was not affected. This delicate procedure, however, left a large defect in the back half of the pelvis, which would compromise Veronica's function and potentially immobilize her leg.
To address this problem, Dr. Khan, with the expertise of
Dr. Jason Ganz
, a plastic and reconstructive surgeon, took healthy tissue from Veronica's calf bone and used it to reconstruct the entire back half of the pelvis. Stony Brook Orthopaedic trauma surgeons Drs.
Nicolas Divaris
and
Brian Morelli
assisted in connecting the healthy bone tissue to the pelvis.
"This surgery was not only a key step for Veronica to hopefully become disease free, it spared her potentially harmful radiation to the pelvis and allowed her to maintain mobility," said Dr. Parker. He indicated that while radiation may be an effective treatment with Ewing's sarcoma, its long-term effects to the hip region in children could lead to disability and even an increased chance of developing other forms of cancer years later.
After the surgery, Veronica had several rounds of chemotherapy, completing that course of treatment in October 2012 after which she returned to school – after being out for an entire year. While Veronica felt much better, she needed a wheelchair to get around.
Veronica continued to show progress into 2013, and one year after her surgery, Veronica's doctors say she shows no evidence of disease. She now walks and uses a rolling walker to stabilize her gait and posture. When not in school, Veronica spends time with her two dogs and eagerly awaits the day when she can walk them regularly.
Her mother, Joanna Franco, said her daughter is not only regaining her health and strength but is excelling in all aspects of school. She cited that Stony Brook's School Re-Entry and Intervention Program staff recognized how important school and music is to Veronica and helped her keep up with schoolwork and eased her return to the classroom.
"Veronica's doctors have been incredible too, and she thinks the world of them," said Franco. "They are pleased at how far she has come and impressed with her new accomplishments in school, the latest of which is making the principal's list with a 98 average."