CLINICAL TRIALS FOR CELLULITE TREATMENT ON THE HORIZON
4/15/2013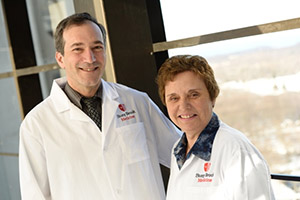 Stony Brook University researchers Drs. Alexander B. Dagum and Marie A. Badalamente
Drug treatment developed by Stony Brook University researchers, licensed by Auxilium Pharmaceuticals, Inc., may become first FDA approved treatment
Projected to start in the second half of 2013, researchers at Stony Brook University plan to begin phase IIa placebo-controlled clinical trials using a drug treatment method developed here to treat cellulite. The treatment method is licensed to BioSpecifics Technologies Corp. ("BSTC"), sublicensed to Auxilium Pharmaceuticals, Inc., ("Auxilium"), and uses clostridial collagenase histolyticum ("CCH"), an injectable form of the enzyme collagenase.
To date, there has been no Food and Drug Administration (FDA) approved treatment for cellulite, which is the normal fat beneath the skin that pushes against connective tissue (collagen) anchoring strands, causing a dimpled effect on the skin above it. According to the American Society for Aesthetic Plastic Surgery, up to 90 percent of women and 10 percent of men -millions of people worldwide - have cellulite.
Marie A. Badalamente, PhD, Professor Orthopaedics, and
Alexander B. Dagum, MD,
Professor of Surgery and Orthopaedics, Interim Chair of Surgery and Chief of Plastic and Reconstructive Surgery at Stony Brook University School of Medicine, are planning to be investigators in the pending trials. Their collaboration has led to the development of a collagenase injection method aimed at treating cellulite. The injection is designed to break down collagen that anchors cellulite dimples and, consequently, even out skin irregularities caused by the cellulite. They hope that their bench-to-bedside research will result in the first medically based effective and FDA approved treatment.
"We are looking for a standard and safe method of treating cellulite and one that can be effective for a long period of time," said Dr.Badalamente, who explained that current approaches, such as laser therapy, massage treatments or topical creams show limited evidence of significantly reducing cellulite.
"While cellulite isn't harmful, it is a serious cosmetic concern for many people who want to feel better about their appearance and who want to reduce cellulite as much as possible," said Dr. Dagum. "There are many methods to remove cellulite but few have been supported in medical literature to be effective or potentially usable as a standard practice."
In 2006 the researchers obtained an investigational new drug number from the FDA for CCH in the treatment of cellulite. They subsequently completed a phase I pilot clinical trial of 10 women treated at Stony Brook for cellulite.
Participants received CCH injections based on an assessment of cellulite on the back of their thighs. The area of cellulite was quantified in centimeters with photo documentation. On average, there was a 77 percent reduction of cellulite as soon as one day after the injection. After six months, the patients had on average a 76 percent reduction of cellulite in the injected area. Only minimal side effects were reported, such as, bruising, soreness and mild edema, shortly after the injection. After six months, the patients reported an average satisfaction score of 1.75 (1=completely satisfied, 4=not satisfied).
"We believe that a significant reduction of cellulite after six months from an injection that appears to be well-tolerated is promising for patients and warrants continued testing within the FDA regulatory process," said Dr. Badalamente, summarizing their pilot study. She emphasized the overall study results were indicators of potential proof of concept for CCH efficacy and safety in treating cellulite.
The results of the study and additional evaluation of CCH by Auxilium prompted the company to expand the field of its license for CCH in January 2013 to include the potential treatment of adults with cellulite. Auxilium is currently licensed to market and distribute XIAFLEX (an FDA-approved version of CCH) to treat adult Dupuytren's contracture patients with a palpable cord, a debilitating hand disorder and is under FDA review for the potential treatment of Peyronie's disease.
Auxilium is responsible for the research, development and potential use of CCH for the treatment of cellulite. This includes the development of clinical trials. Should a formulation of CCH receive FDA approval for this new indication, Auxilium will also be responsible for the commercialization, marketing, sales and distribution of CCH for the treatment of cellulite.
About XIAFLEX
In February 2010 the FDA approved XIAFLEX (collagenase clostridium histolyticum), as the first non-surgical treatment of Dupuytren's contracture with a palpable cord, a debilitating hand disorder caused by progressive accumulation of collagen that deforms fingers and limits motion. The method for treatment of Dupuytren's contracture using CCH was developed by Stony Brook University researchers Marie A. Badalamente, PhD, and
Lawrence C. Hurst, MD
. XIAFLEX is marketed and distributed in the United States by Auxilium Pharmaceuticals, Inc. (Chesterbrook, Pa.).
Since the FDA approval of XIAFLEX for Dupuytren's contracture with a palpable cord, the drug has been administered to more than 40,000 patients in the United States and 46 Eurasian countries. It is approved in Canada and under review or to be submitted for review in other countries such as Japan, Australia, Mexico and Brazil.
Drs. Badalamente and Hurst have also created the
Dupuytren's Institute at Stony Brook,
which serves as a treatment center and organization involved in training physicians nationally and worldwide on the treatment of the hand disorder, including the procedure and administration of XIAFLEX.
CCH is also under clinical trial investigation by Auxilium for another indication commonly referred to as frozen shoulder syndrome. This treatment indication, based on the work of Drs. Badalamente and
Edward Wang
, Associate Professor of Orthopaedics, Stony Brook University, as investigators, is also licensed to Auxilium through BSTC.
About Cellulite
Cellulite is normal fat, anchored by collagen strands, beneath the skin. Thus the skin appears bumpy and presents as the dimpling on the thighs and buttocks. Cellulite is not harmful. There is no clear cause of cellulite though factors may include genetics, hormone changes, lack of physical activity, slow metabolism or poor diet. There is currently no FDA approved treatment for cellulite.