BELLPORT FIREFIGHTER WHO RECEIVED KIDNEY TRANSPLANT FROM SON AT SBUH RECEIVES SURPRISE FATHER'S DAY GIFTS ON NATIONAL TV
6/25/2013
Receives personal invites from Robinson Cano of New York Yankees, Steven Tyler of Aerosmith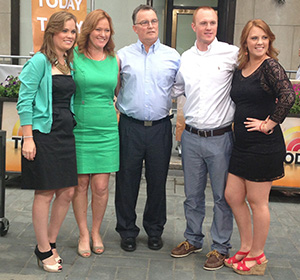 Frank Furia, center, of Bellport, poses with his family on the set of the TODAY Show on Father's Day, June 16. Shown left to right are his daughter Alexandra, his wife Kate, his son Tyler and his daughter Jayne. On the show, Frank received a surprise Father's Day gift of tickets to a Yankees' baseball game and an Aerosmith concert, after Frank's son, Tyler, donated a kidney to his father in surgery performed at Stony Brook University Hospital in March.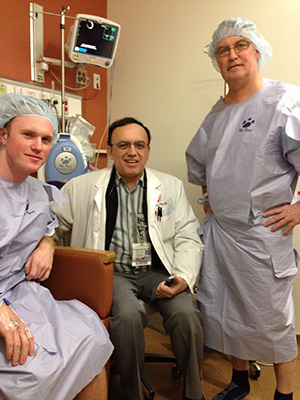 In this family photo, Dr. Frank Darras, center, of Stony Brook University Hospital (SBUH), is all smiles prior to the kidney transplant surgery on March 21 in which Tyler Furia, left, donated a kidney to his father, Frank Furia, right, of Bellport. The father-son duo were honored on Father's Day in a live national TV interview when Frank received a surprise Father's Day gift of tickets to a Yankees' baseball game and an Aerosmith concert.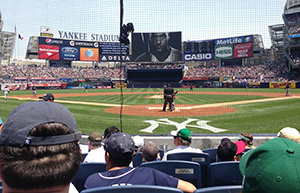 As shown in this photo he took, Frank Furia could have called the balls and strikes from his vantage point behind home plate at the New York Yankees' baseball game on June 22. He received the complimentary baseball tickets from the Yankees as a surprise Father's Day gift on national TV after his son donated a kidney to him in a transplant procedure performed at Stony Brook University Hospital on March 21.
It would be quite an understatement to say that Frank Furia had a memorable Father's Day. Three months after receiving a lifesaving kidney transplant from his 21-year-old son at Stony Brook University Hospital, he went on national TV, where he learned from New York Yankee Robinson Cano that he had tickets to a Yankees game. Then he learned from Steven Tyler of Aerosmith that he had backstage passes to the band's July 13 concert on Randall's Island.
Furia, 56, a volunteer firefighter from Bellport, NY, suffers from Wegener's Granulomatosis, a rare blood disease. He went on dialysis last year and was facing an uncertain future until his son, Tyler, decided to donate a kidney on March 21, one day before his 21st birthday.
Tyler's surgery was performed by
Frank S. Darras, M.D.
, Professor of Urology at Stony Brook University School of Medicine, and Medical Director of Transplantation Services for the Urology Department at SBUH, who removed his kidney laparascopically.
Wayne Waltzer, MD, FACS
, Professor and Chairman of the Department of Urology, and Director, Kidney Transplantation Services at SBUH, performed the transplant surgery on Furia. "His prognosis is excellent," Dr. Waltzer said. "His kidney function is currently normal."
"While we are not quite able to predict how many years ahead of him Mr. Furia has, we expect that with this kidney transplant, he will have more years of life ahead of him versus staying on dialysis, as well as have a far better quality of life," Dr. Darras said.
"For me, having my son stand up and say, 'Dad, I'm donating a kidney to you'... There's no words to say it," Furia told TODAY Show host Erica Hill on Father's Day in a live TV interview, which featured a photo of Furia in his room at Stony Brook University Hospital, accompanied by Dr. Darras. "That is my hero and he'll always be my hero as long as I'm alive."
Hill then surprised Furia with a video clip of Robinson Cano of the New York Yankees, who informed Furia that he had an invitation to join the team for their game on June 22 against the Tampa Bay Rays at Yankee Stadium.
"I heard about your story, and it's a great story," Cano said in the video. "I know you have to be so proud of your son. And I know this Father's Day is going to be very special for you, and we want to make it even more special. We want you to come to Yankee Stadium and spend the day with us, and we have some tickets for you."
Then came another surprise: Steven Tyler came on the screen to inform him that he was invited to join the band backstage at Aerosmith's concert in July. " heard a great story about your son giving you his kidney," Tyler said in the video."And he's 21 years old? Dude, that's outrageous... I want you to come back stage and meet the guys and come sit in my dressing room for a while, because you guys are really something else. Happy Father's Day."
"I hope you don't have plans on July 13th," said Hill, "because Steven Tyler is expecting you in his dressing room."
Furia is such a big fan of Aerosmith that he named his son Tyler. "I was just overwhelmed," he said of the surprise videos. "I did not expect anything like that. It was all kept secret."
Furia said he sees the surprise publicity as an opportunity to encourage people to join the organ donor list. Currently there are more than 118,000 patients nationwide waiting for transplants. The average wait time is four to seven years, depending upon the patient's blood type, and Furia would have lived only five to seven more years without his transplant.
"We need more donors, because it really turns your life around," Furia said. "It turned my life around."
About Stony Brook University Hospital
:
Stony Brook University Hospital (SBUH) is Long Island's premier academic medical center. With 603 beds, SBUH serves as the region's only tertiary care center and Level 1 Trauma Center, and is home to the Stony Brook Heart Institute, Stony Brook Cancer Center, Stony Brook Long Island Children's Hospital, Stony Brook Neurosciences Institute, and Stony Brook Digestive Disorders Institute. SBUH also encompasses Suffolk County's only Level 4 Regional Perinatal Center, state-designated AIDS Center, state-designated Comprehensive Psychiatric Emergency Program, state-designated Burn Center, the Christopher Pendergast ALS Center of Excellence, and Kidney Transplant Center. It is home of the nation's first Pediatric Multiple Sclerosis Center. To learn more, visit
www.stonybrookmedicine.edu.