When It Comes to Trauma, Being at the Right Place at the Right Time Makes a Difference
7/11/2013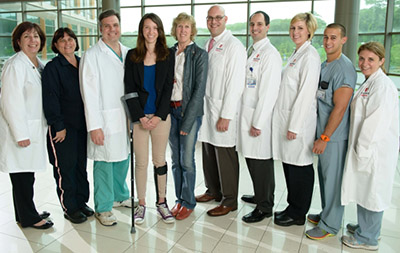 Doris Quigley and her mother, Theresa Quigley, center, of East Hampton, NY, are surrounded by the multidisciplinary team at Stony Brook that treated Doris' spinal cord injury. Left to right are Trauma Program Manager Jane McCormack, RN; Therese Luckingham, EMS; Trauma Chief James Vosswinkel, MD; Orthopaedic Spine Surgeon Brian Morelli, MD; Pediatric Spine Surgeon James Barsi, MD and Surgical Intensive Care Nurses Kelly Brady, RN; Peter Frisone, RN and Jennifer Mullenburg, RN.
17-Year-Old Back to Swimming After Diving Accident Causes Spinal Cord Injury
It is difficult to call it lucky, but when 17-year-old Doris Quigley of East Hampton, NY, dove into a sandbar at Atlantic Avenue Beach in Amagansett last August and sustained a spinal cord injury, luck was the one thing she had on her side that day. Now she is back to swimming again after the near-fatal accident.
First, after she surfaced and realized she was in trouble, the father of a good friend and fellow lifeguard immediately came to Doris' side and stabilized her on his boogie board. Then, the guard crew called 911 and an ambulance appeared within minutes to take her to the local firehouse to await emergency air transport to Stony Book University Hospital's (SBUH) Trauma Center. When the Medevac helicopter landed, Stony Brook's trauma team, led by
James Vosswinkel, MD,
Chief of Trauma, Emergency Surgery and Surgical Critical Care, was in place and ready to treat her. Time from original accident site to state-of-the-art Level I trauma services? Less than one hour.
SBUH is Suffolk County's only designated (Level I) Regional Trauma Center - the highest designation possible - which means it has the capabilities to care for the most complex illness and injuries, and takes referrals from the surrounding community hospitals. Stony Brook's Trauma Center is among four of 40 trauma centers in New York State whose survival rates for patients with severe traumatic injury were significantly above the statewide average - and is one of only two centers recognized twice consecutively for this achievement.
For Doris, this meant that she was in the right place at the right time. After the trauma team evaluated her condition - a fracture of the C-6 vertebrae with an incomplete spinal cord injury that left her with little to no movement in her extremities - she was transferred to one of the operating rooms available to trauma patients 24/7. There, orthopaedic spine surgeon
Brian Morelli, MD,
was standing by. He and his colleague
James Barsi, MD,
a specialist in pediatric orthopaedics, operated immediately, decompressing the spinal cord by removing fragments of the bone and reconstructing the vertebral column with a C5-7 fusion during a five-hour-plus operation.
"In cases like these, it is critical to have access to high level care because every minute makes a difference," said
Margaret McGovern, MD, PhD,
Professor and Chair of the Department of Pediatrics, and Physician-in-Chief, Stony Brook Children's Hospital.
With spinal cord injuries, the first few days after surgery often require a "watch and wait" approach that is challenging to patients and families as they face the possibility of a dramatically changed future.
"Beyond surgery, my job is to be emotionally supportive," Dr. Morelli said. "I have to help patients and families understand that once we have done everything medically possible, the body needs time to heal itself." The wait was rewarded after three days post-op when Doris, her family and her doctors watched her wiggle her toes.
From that point on, Doris progressively improved. "While I was at Stony Brook, everyone around me - the nurses, therapists and doctors -were just so incredible that I was able to remain positive in the face of every challenge," Doris said. Her mother, Theresa, was able to remain by her side 24/7 the entire time she was hospitalized. "They treated her like a necessary part of the medical team. I love how the Stony Brook staff understood how important my family was in my recovery."
After her discharge from SBUH, Doris went into inpatient rehabilitation at NYU Rusk. She finally returned home just before Christmas, four months after the accident. She continues physical therapy and rehabilitation on an outpatient basis at Southampton Hospital and with a personal trainer. Today, Doris can walk independently with crutches and a leg brace, using a wheelchair only for longer distances. She recently graduated with her class at East Hampton High School and after another year of therapy is planning to attend Tulane University in New Orleans in 2014. And she is back in the swim of things, literally --- swimming in a pool again.
Many see Doris' story as a bit of a miracle, but Dr. Morelli disagrees. "This was an exceptionally good outcome for this type of injury," he said. "We had a motivated patient, a supportive family and access to advanced medical care every step of the way. Treating these most serious of injuries is, quite simply, what we do here at Stony Brook every day. We have all the right elements in place - expert physicians and surgery teams, experienced nurses, an excellent ICU, caring staff, an amazing trauma team - so the high level of care we provide is the norm, not the exception."