STONY BROOK CEREBROVASCULAR SPECIALISTS TO COMMUNITY: NEW TECHNOLOGY INCREASING ABILITY TO CURE BRAIN ANEURSYSMS
10/1/2013

Henry Woo, MD, Professor of Neurological Surgery and Co-Director of the Cerebrovascular and Stroke Center, discussed "Treatment of Brain Aneurysms: Then and Now." He explained how procedures have changed and now involve more minimally invasive endovascular procedures rather than surgery.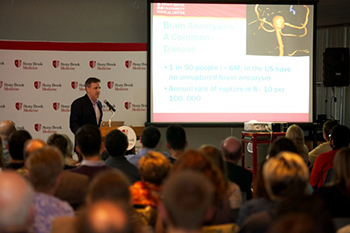 David Fiorella, MD, PhD, Professor of Neurological Surgery and Radiology, and Co-Director, Cerebrovascular and Stroke Center, detailed "New Endovoascular Technology for Brain Aneurysms." He presented numerous cases and information on new treatments, including small and flexible coils that effectively cut off brain aneurysms, including complex and large ones.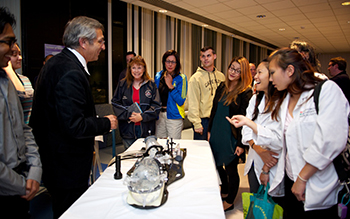 B. Barry Lieber, PhD, Professor of Neurological Surgery and Director, Cerebrovascular Research Lab, and one of the foremost authorities on brain vasculature, educated some of the attendees about "Headley", a neurovascular simulator used for research and clinical training. Headley's "brain" vessels are made of material that mimics the quality of human vasculature.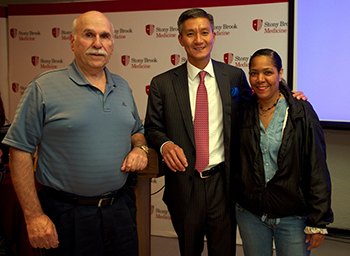 Dr. Henry Woo with grateful patients Theodore Borsari and Larie Dione Lewis. Both have recovered fully after Dr. Woo removed their life-threatening brain aneurysms.
200 attend forum highlighting Stony Brook Medicine expertise and research during National Brain Aneurysm Awareness Month
Three world-renowned cerebrovascular specialists from Stony Brook Medicine shared the latest information about new technology and treatments to cure brain aneurysms and research to advance the detection and treatment of these potentially deadly or disabling conditions to nearly 200 attendees at "Brain Aneurysms: Beyond the Basics," held at Stony Brook Medicine on September 26. Healthcare professionals, grateful patients, Stony Brook students and community members attended the educational forum that capped off National Brain Aneurysm Awareness Month.
A brain aneurysm is a weak area in a brain blood vessel that usually enlarges and can rupture, affecting anyone at any age. The National Institute for Neurological Disorders and Stroke estimates that 1.5 to 5 percent of the American population has or will develop a cerebral aneurysm. About 30,000 individuals per year experience a ruptured brain aneurysm.
The forum provided an opportunity for the community to understand in plain terms why treating brain aneurysms is so important, the methods to treat them, and new research frontiers being explored at Stony Brook Medicine.
About Stony Brook University Cerebrovascular and Stroke Center:
Stony Brook University Cerebrovascular and Stroke Center (CVC) has a dedicated team with the expertise needed to diagnose and treat a wide range of cerebrovascular diseases. The Center offers a multidisciplinary team of neurologists, interventional neuroradiologists and cerebrovascular neurosurgeons who are committed to excellence in patient care, research, and education. The CVC uses a multidisciplinary, team-based approach, state-of-the-art facilities and equipment, and the latest surgical and minimally invasive techniques to accurately diagnose and treat cerebrovascular disorders. State-of-the-art facilities include high-speed computed tomography (CT), MRI, biplane angiography equipment and a new $14 million cerebrovascular biplane suite. To learn more, visit
www.neuro.stonybrookmedicine.edu
.