Preeminent Psychiatrist Recognized for Advancing the Prevention of Mental Illness in Children
6/17/2013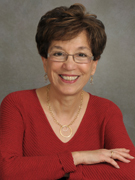 Stony Brook University's
Gabrielle Carlson, MD,
a renowned child psychiatrist, received the American Psychiatric Association's (APA) prestigious Agnes Purcell McGavin Award for Prevention at the APA's annual meeting last month. Dr. Carlson, a Professor of Psychiatry and Pediatrics, and Director of Stony Brook Children's Division of Child and Adolescent Psychiatry, received the award in recognition of her outstanding work in advancing the mental health of children and adolescents.
According to the APA, the award is given annually to a child and adolescent psychiatrist who has made "significant contributions to the prevention of mental disorders in children and adolescents and has influenced the general well-being of young people."
"Gabrielle Carlson is one of the preeminent child and adolescent psychiatrists of the 21st century," said Louis Kraus, MD, Chair of the APA Council on Children, Adolescents and Their Families, which supervises the McGavin Award. "Her devotion to research and education is perhaps only matched by her vibrant personality and incredible intellect."
Dr. Carlson came to Stony Brook in 1985 and founded the Division of Child and Adolescent Psychiatry. She established a 10-bed inpatient child psychiatry unit in Stony Brook University Hospital, an outpatient child and adolescent psychiatry service on campus, and initiated a fellowship in Child and Adolescent Psychiatry. Her peers know her as a tireless advocate on behalf of mental health services for young people and a leader in local mental health services that involve the medical community, school districts and mental health agencies.
"Dr. Carlson is an outstanding educator, clinician, and researcher," said
Ramin Parsey, MD,
Chair of the Department of Psychiatry and Behavioral Science at Stony Brook University School of Medicine. "She is devoted to her patients and passionate about her work. As a leader in her field and at Stony Brook, Dr. Carlson's achievements have led to significant improvements in the way we practice child psychiatry."
"I am really honored to receive this award from the American Psychiatric Association," said Dr. Carlson. "Understanding and improving the mental health of our children is important not only for their growth and development but for the health of our society. I look forward to continuing my collaboration with Stony Brook colleagues and professionals nationwide to discover the best methods to prevent mental illnesses in children and better treat their conditions."
Dr. Carlson specializes in childhood psychopathology and psychopharmacology, with specific interests in childhood and adolescent depression and bipolar disorder. Known for her groundbreaking research in defining bipolar disorder (previously known as manic-depressive illness), Dr. Carlson was recognized in 2007 by the APA for her description of the symptoms and outcome of bipolar disease in young people. When she began her research on bipolar disorder more than 30 years ago, the disease was known to be familiar and genetic but not recognized in children and adolescents.
Dr. Carlson has served as President of the International Society for Research in Child and Adolescent Psychopathology and is the current chair of the American Academy of Child and Adolescent Psychiatry's (AACP) Program Committee, a four-year position. For the past five years, she has topped the AACAP's list of most requested speakers. She has written over 200 papers and chapters and has co-authored two books.
Before coming to Stony Brook, Dr. Carlson held academic positions in Psychiatry at the University of Missouri Health Sciences Center in Columbia, MO and the UCLA School of Medicine in Los Angeles, Calif.
Dr. Carlson is board certified in Psychiatry and Child Psychiatry. Her professional memberships include the APA, the American Academy of Child and Adolescent Psychiatry, the Society for Psychosocial Research, the International Society for Research in Child and Adolescent Psychopathology, and the American Psychopathological Association.