Lighting the Way for Better Bladder Cancer Detection
2/19/2014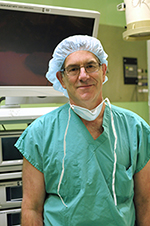 Wayne Waltzer, MD, Chairman, Department of Urology
Stony Brook University Hospital Implements New Blue Light Imaging Agent to Improve the Detection Rate of Certain Bladder Cancer Tumors
Stony Brook University Hospital is the only institution on Long Island to offer a new imaging agent for the detection of papillary cancer of the bladder in patients with known or suspected bladder cancer.
Bladder cancer is the sixth most commonly diagnosed cancer in the United States. According to The National Cancer Institute nearly 73,000 new cases of bladder cancer are diagnosed in the U.S. each year.
Wayne Waltzer, MD,
Chairman, Department of Urology, Stony Brook Medicine says bladder cancer can sometimes be difficult to detect.
"Bladder cancer is the type of cancer that can also get aggressive and metastasize quickly. So making an accurate diagnosis is key," said Waltzer. "The Blue Light Cystoscopy with Cysview is important because it's a modality that is proven to make more sensitive diagnoses. We are able to find smaller tumors that may have been undetected."

Left, bladder image using white light cystoscopy alone. Same image on the right after using Blue Light Cystoscopy with Cysview as an adjunct to white light. The blue light causes compounds within the tumors to fluoresce a pink color, providing specific and accurate visualization of tumors.
Since bladder cancer has a very high recurrence rate - between 50-80 percent - it requires life-long surveillance and is one of the most expensive cancers to treat, with nearly 40 percent of the costs coming from surgical interventions to treat the recurrence.
"Using this new diagnostic tool enhances our ability to do surgery, if needed, and remove the tumors right away," said Waltzer. "Better detection translates to earlier treatment and results in a decreased rates of recurrence."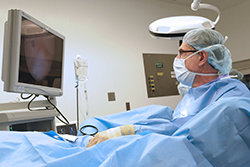 Wayne Waltzer, MD, Chairman, Department of Urology, Stony Brook Medicine in an operating room at Stony Brook University Hospital.
White light cystoscopy had been has been the gold standard for visualizing suspicious lesions during transurethral resection of bladder tumor (TURBT). However, when used on its own, harder-to-see tumors can often be missed. Cysview works by exploiting fluorescent properties of naturally occurring molecules in malignant tissues. Cysview is the only FDA-approved imaging agent for use with blue-light cystoscopy.
Using Blue-Light Cystoscopy with Cysview, the imaging solution is delivered into the bladder about an hour prior to the cystoscopy and is absorbed by cancerous tissue. Using the special Photodynamic Diagnostic system, the doctor inserts a long thin scope into the bladder. After first using white light, the doctor will switch to blue light mode. Because of the preferential uptake of Cysview by malignant cells, hard-to-see tumors that may be present become more visible, standing out against normal bladder tissue and making it easier for the doctor to identify and remove them.
"At Stony Brook Medicine, patients with known or suspected bladder cancer can now get the answers they are looking for and the care they need," said Waltzer.
About Stony Brook University Hospital:
Stony Brook University Hospital (SBUH) is Long Island's premier academic medical center. With 603 beds, SBUH serves as the region's only tertiary care center and Level 1 Trauma Center, and is home to the Stony Brook Heart Institute, Stony Brook Cancer Center, Stony Brook Long Island Children's Hospital, Stony Brook Neurosciences Institute, and Stony Brook Digestive Disorders Institute. SBUH also encompasses Suffolk County's only Level 4 Regional Perinatal Center, state-designated AIDS Center, state-designated Comprehensive Psychiatric Emergency Program, state-designated Burn Center, the Christopher Pendergast ALS Center of Excellence, and Kidney Transplant Center. It is home of the nation's first Pediatric Multiple Sclerosis Center. To learn more, visit
www.stonybrookmedicine.edu