Implantable 'Bracelet' Brings Relief to GERD Sufferers
2/19/2014
The LINX magnetic band implanted around the esophagus to provide a magnetic barrier to gastric reflux.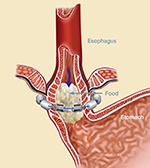 The LINX magnetic band opens to allow food to pass through the esophagus, then immediately closes after the food passes to restore the magnetic barrier to reflux.
New minimally invasive procedure is the latest advancement for the treatment of acid reflux
An innovative laparoscopic procedure that implants a ring of magnetic beads to help prevent acid reflux in patients who suffer from Gastroesophageal Reflux Disease (GERD) is the latest tool surgeons at Stony Brook University Hospital (SBUH) have to treat the disease.
More than 30 million American's suffer from acid reflux each month, and the risk for developing GERD increases after age 40. The symptoms of GERD include heartburn, regurgitation, sore throat, cough, and chest pain. When left untreated, reflux disease can lead to serious complications, such as esophagitis, stricture, Barrett's esophagus and esophageal cancer.
Using a small, flexible band of titanium beads with magnetic cores, surgeons implant the band around the patient's esophagus just above the stomach. The magnetic attraction between the beads strengthens the weakened esophageal sphincter's barrier function. The band is strong enough to allow food and liquids to pass normally to the stomach, but immediately closes after swallowing to restore the magnetic barrier to reflux. Following the procedure, patients are able to resume a normal diet and will typically resume normal activities in less than a week.
"This new procedure represents a substantial advancement in our ability to treat patients who suffer from GERD," said
Mark Talamini, MD,
Chair of the Department of Surgery at Stony Brook University School Medicine and Founding Director of the Stony Brook Medical Innovation Institute, who will be among the surgeons performing the procedure at SBUH. "In addition to excellent clinical results, this procedure provides many lifestyle benefits compared to the traditional surgery for reflux called Nissen fundoplication. Studies show that implanting the magnetic beads often reduces or eliminates the need for medications and offers improved quality of life for our patients."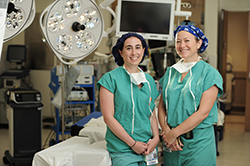 Left, Dana Telem, MD, Assistant Professor of Surgery and right, Aurora Pryor, MD, Professor of Surgery in the operating room.
Using the
LINX® Reflux Management System,
the procedure is indicated for patients diagnosed with reflux who continue to have chronic reflux symptoms despite maximum medical therapy, said
Aurora Pryor, MD,
Professor of Surgery at Stony Brook University School of Medicine, Chief of the General Surgery Division, and Director of the Bariatric and Metabolic Weight Loss Center, who will also be performing the procedure at SBUH, along with fellow surgeon
Dana Telem, MD,
Assistant Professor of Surgery and Associate Director of the Bariatric and Metabolic Weight Loss Center.
"GERD is a caused by a mechanical defect and requires a mechanical solution, which is achieved through this minimally invasive procedure," Dr. Telem said. "As the first surgeons in Suffolk County to perform this procedure, we will be able to directly benefit many patients who suffer from acid reflux."
The LINX device was FDA approved in March 2012 after 10 years of development and testing, including two clinical trials with 144 patients. A total of 400 implant procedures were performed over five years of clinical use. In one trial, 90 percent of patients achieved a reduction in time exposed to acid, with 93 percent reporting a 50 percent or greater reduction in GERD over two years. Ninety-two percent of patients were off daily Proton-pump inhibitors (PPIs), a group of drugs whose main action is a pronounced and long-lasting reduction of gastric acid production, after two years. The number of patients reporting regurgitation dropped from 57 to one.
About Stony Brook University Hospital:
Stony Brook University Hospital (SBUH) is Long Island's premier academic medical center. With 603 beds, SBUH serves as the region's only tertiary care center and Level 1 Trauma Center, and is home to the Stony Brook Heart Institute, Stony Brook Cancer Center, Stony Brook Long Island Children's Hospital, Stony Brook Neurosciences Institute, and Stony Brook Digestive Disorders Institute. SBUH also encompasses Suffolk County's only Level 4 Regional Perinatal Center, state-designated AIDS Center, state-designated Comprehensive Psychiatric Emergency Program, state-designated Burn Center, the Christopher Pendergast ALS Center of Excellence, and Kidney Transplant Center. It is home of the nation's first Pediatric Multiple Sclerosis Center. To learn more, visit
www.stonybrookmedicine.edu.