New, Expanded Cardiothoracic Intensive Care Unit Opens at Stony Brook Medicine
10/9/2014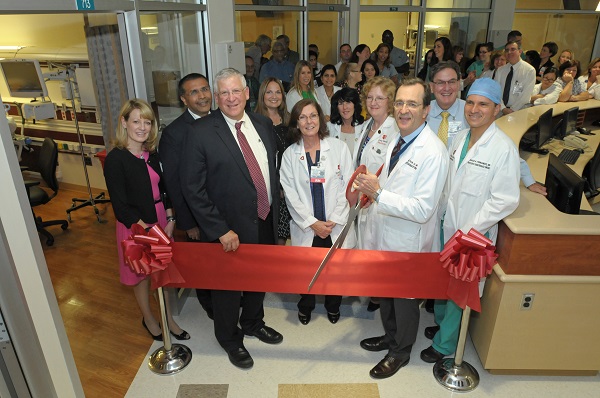 A new 15-bed unit in the Cardiothoracic Intensive Care Unit (CTICU) at
Stony Brook University Heart Institute
was unveiled on Monday at
Stony Brook Medicine.
CTICU provides care for patients immediately after cardiac surgery. After surgery, patients receive on-on-one care from highly skilled nurses and from a highly trained healthcare team of doctors, physician assistants, respiratory therapists, and physical therapists until they are ready to progress to an intermediate care unit. Between 2012 and 2013, the volume of cardiothoracic surgery patients at the Stony Brook University Heart Institute grew from 425 to 600, and those numbers continue to escalate. During a ceremony, L. Reuven Pasternak, M.D., Chief Executive Officer, Stony Brook University Hospital, and Vice President for Health Systems, Stony Brook Medicine, applauded the CTICU team, led by
Drs. Harold Fernandez,
Deputy Chief, Cardiothoracic Surgery and
James Taylor,
Chief, Cardiothoracic Surgery, for their tremendous strides in providing quality care and service to heart patients which was instrumental in the creation of this new unit.
"This beautiful new unit will only help us continue to deliver the type of high-quality care that our patients have come to expect from Stony Brook," said Dr. Pasternak.
The expanded CTICU increased in size which allows the team to provide the most high-tech care to all cardiothoracic patients. Now the unit can easily support services and treatment like Extracorporeal Membrane Oxygenation (ECMO), Impella, Continuous Veno-Veno Hemofilatration Dialysis (CVVHD), Intr--aortic balloon pump (IABP), Ventilator Support, Nitric Oxide Support, Ventricular Assist Devices and more.
"Today's event marks another important step along the way, in our journey toward creating a patient-centered culture of excellence," said Dr. Pasternak.
The CTICU was honored last year with the Beacon Award of Excellence by the American Association of Critical Care Nurses which recognized the unit for meeting or exceeding the highest standards of excellence in critical care.
About Stony Brook University Heart Institute:
Stony Brook University Heart Institute is located within Stony Brook University Hospital as part of Long Islan's premier university-based medical center. The Heart Institute offers a comprehensive, multidisciplinary program for the prevention, diagnosis and treatment of cardiovascular disease. The staff includes 50 full-time and community-based, board-certified cardiologists and cardiothoracic surgeons, as well as 350 specially trained anesthesiologists, nurses, physician assistants, nurse practitioners, respiratory therapists, surgical technologists, perfusionists, and other support staff. Their combined expertise provides state-of-the-art interventional and surgical capabilities in 24-hour cardiac catheterization labs and surgical suites. And while the Heart Institute clinical staff offers the latest advances in medicine, its physician-scientists are also actively enhancing knowledge of the heart and blood vessels through basic biomedical studies and clinical research. To learn more, visit
www.heart.stonybrookmedicine.edu
.