Assemblyman Bob Sweeney Honors SBUMC Prostate Care Program After 12 Years of Free Screening at North Lindenhurst F.D.
8/9/2007
Urologist Howard Adler, M.D., Program Medical Director, Accepts Citation on Behalf of Staff, SBUMC
In a special tribute to the Prostate Care Program at Stony Brook University Hospital, NYS Assemblyman Robert K. Sweeney presented program Medical Director, Dr. Howard Adler, with a citation of recognition on July 24 during one of three annual screening events at North Lindenhurst Fire Department (NLFD).
The idea for the Prostate Care Program was conceived by Dr. Maurice Gonder, the first Chairman of the Department of Urology at Stony Brook University Medical Center, a contributor to the original research leading to the PSA test in use today. Now in its 12th year of partnership with Assemblyman Sweeney and the NLFD, the Stony Brook Prostate Care Program screens more than 300 men at the Fire House each year.
During his tenure as program director of the mobile screening program, Dr. Adler has provided free screenings for more than 11,000 men from Manhattan to Montauk. He has offered screenings at police stations, fire stations, churches, community centers, schools, medical clinics and corporate offices. Approximately 15 per cent of those screened are recommended for a follow up for abnormalities with PSA testing, prostate evaluation, or both.
"Through this screening program I believe we offer peace of mind to thousands of men in the community," said Dr. Adler. "Men feel somewhat empowered that they are taking a proactive approach to their own medical care, and realize that knowing is much better than not knowing."
Through the Prostate Care Program, Dr. Adler has had the opportunity to speak to large and small audiences at locations such as Brookhaven National Laboratory, Smithaven Mall, Wyandanch Senior Nutrition Center, Leisure Village & Continuing Medical Education conferences. He continues to look for new venues to present health education and free screenings to men all over Suffolk County.
The Prostate Care Program of Stony Brook University Medical Center offers free prostate screenings at satellite offices and throughout the local community at various times. Annual screening is recommended for men aged 50 and over. African-American men and all men with a family history of prostate cancer are at higher risk and should begin annual screenings at the age of 40. For more information or to make an appointment, call Stony Brook University Medical Center HealthConnect at (631) 444-4000.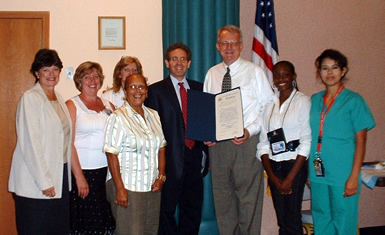 NYS Assemblyman Robert K. Sweeney presents Dr. Howard L. Adler with a citation for his commitment to the annual screening program at the North Lindenhurst Fire Department held in conjunction with Assemblyman Sweeney. Pictured with Dr. Adler and Assemblyman Sweeney are from left, Denise Kretz, Anne Klassert, NP, Arlene Shaw, RN, Carman Larkin, (Dr. Adler, Assemblyman Sweeney), Felicia Whitty and Myra Delcid.