Cody Center Expands Autism and Developmental Disability Services to Those in Need on the East End of Long Island
12/17/2007
New Hampton Bays Location Offers Individual Care Programs and Family Support Services
STONY BROOK, and HAMPTON BAYS, N.Y., December 13, 2007 – Stony Brook University recently celebrated the opening of the Cody Center-East End, expanding services provided by the Cody Center for Autism and Developmental Disabilities to residents of eastern Long Island. Based in Hampton Bays, the new Cody Center-East End was established in response to the growing need for autism and developmental disability services on the North and South Forks of Long Island.
Services provided in the new Hampton Bays location include individual and family therapy, social skills training, and parent training to individuals. As services expand in 2008, Cody Center physicians, psychologists and other specialists, in conjunction with area professionals, will provide specialized psychotherapy and psychiatric services (including medication management), as well as support groups for parents and siblings of those with autism and developmental disabilities.
"Our goal is to make this new location convenient and helpful for our patients and their families who need more immediate access to programs and services," said
John Pomeroy, M.D.
, Director of the Cody Center. "Autism is a concern for every community in America, and we hope by providing a site closer to home, we can help more people affected by autism spectrum disorders."
According to the Autism Society of America, approximately 1.5 million Americans have some form of autism. The mission of the Cody Center is to advance the care for many individuals in the region with autism spectrum disorders and other developmental disabilities. All of the services of the Cody Center are geared toward clinical, educational, and support services for patients and their families. These include diagnostic evaluations and re-evaluations; neuropsychological evaluations, which assess cognitive functioning, attention span, social and emotional functioning and other cognitive processes; neurological assessments; social evaluations; psychiatric services; genetics assessments and medication consultation. The practice takes a multidisciplinary approach to care and consultation, which includes physicians, psychologists, social workers and others who specialize in the care of those with autism spectrum disorders and other developmental disabilities.
The Cody Center is the primary resource for diagnosis, treatment and research on autism and related disorders on Long Island. Cody Center-East End is located at 225 West Montauk Highway in Hampton Bays. To arrange an appointment, or for more information about East End services, call 631-632-3070, or visit www.codycenter.org.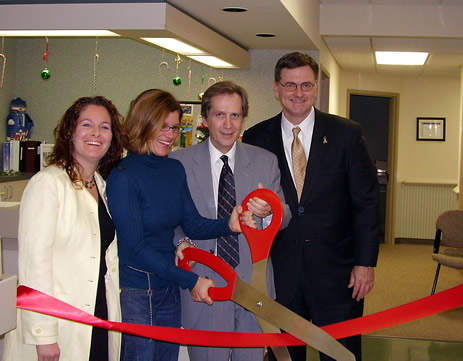 www.codycenter.org
. Pictured, from left: Sagit Vishnia, Psy.D., who provides therapeutic services at the new location; Kim Kovell, fundraiser for East End activities and parent of a child with autism; John Pomeroy M.D., Director of the Cody Center, and Edward Nitkewicz, Esq., Chair of the Cody Comedy Festival and parent of a child with autism. Stony Brook University recently celebrated the opening of the Cody Center-East End, expanding services provided by the Cody Center for Autism and Developmental Disabilities to residents of eastern Long Island. Based in Hampton Bays, the new Cody Center-East End was established in response to the growing need for autism and developmental disability services. For more information about East End services, call 631-632-3070, or visit