SBU PROFESSOR RECEIVES FIRST-EVER CLINICAL PRACTICE MANAGEMENT PLAN (CPMP) AWARD FOR EXCELLENCE IN CLINICAL PRACTICE
11/19/2009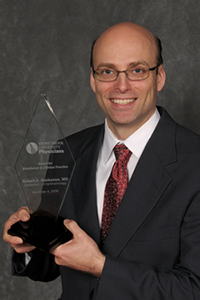 Award for Excellence in Clinical Practice recipient, Robert A. Honkanen, MD, Department of Ophthalmology © Media Services
Stony Brook University Assistant Professor of Ophthalmology, Robert A. Honkanen, MD, is the first-ever recipient of the SBU Physicians Award for Excellence in Clinical Practice. This award was presented to Dr. Honkanen at the 2009 CPMP Conference held on November 4th, by Dr. Peter S.A. Glass, Professor and Chair of the Department of Anesthesiology and Chair of the CPMP Board of Directors.
Established in 2009 under the auspices of the CPMP Practice Committee, the SBU Physicians Award for Excellence in Clinical Practice recognizes a CPMP physician who exemplifies a sustained commitment to excellence in patient care. The selection committee, comprised of Practice Committee members sought nominations of physicians who have demonstrated a productive clinical role, strong patient satisfaction and collegial working relationships, as well as an engagement in delivering outstanding care to patients.
An SBU School of Medicine graduate, Dr. Honkanen returned to Stony Brook in 1999 after completing his residency training in ophthalmology at Yale University and fellowship training in glaucoma at the University of Iowa. Board certified in ophthalmology,
Dr. Honkanen
was chosen for the award based on his exemplary dedication to patients and demonstrated excellence in clinical practice. Dr. Glass stated that Dr. Honkanen is "highly respected by colleagues and staff, and is a productive clinician with strong referral relationships and patient satisfaction results".