SBU PROFESSOR RECEIVES FIRST-EVER CLINICAL PRACTICE MANAGEMENT PLAN (CPMP) LIFETIME CLINICAL SERVICE AWARD
11/19/2009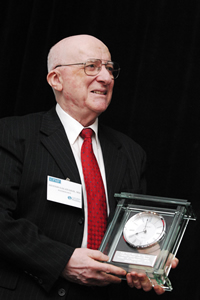 Lifetime Clinical Service Award recipient Dennis K. Galanakis, MD, Department of Pathology
Stony Brook University Associate Professor of Pathology, Dennis K. Galanakis, MD, has been selected by his peers as the first-ever recipient of the Lifetime Clinical Service Award. Dr. Galanakis was presented this award at the 2009 CPMP Full Member Conference on Wednesday, November 4th at Flowerfield in St. James, New York, by the Chair of the CPMP Board of Directors, Dr. Peter S.A. Glass, Professor and Chair of the Department of Anesthesiology.
The SBU Physicians Lifetime Clinical Service Award was presented to the clinician who has demonstrated a life-long dedication to patient care, characterized by outstanding service and commitment to both colleagues and patients.
An Associate Professor in the Department of Pathology and Director of Blood Bank here at Stony Brook since 1982,
Dr. Dennis K. Galanakis
was selected to receive the first-ever Lifetime Clinical Service Award. Dr. Galanakis' contributions to and direction of the Transfusion Services has brought it much recognition as an outstanding clinical service, making possible many of the successes achieved in surgical, obstetrical and oncology programs here at Stony Brook. Dr. Galanakis is internationally recognized for his work and is frequently sought as a consultant on challenging cases throughout New York and the nation. Respected by his colleagues and patients, Dr. Galanakis has been described by his peers as "having no higher purpose in life than to provide the best possible clinical care to his patients". In his presentation of the award to Dr. Galanakis,
Dr. Glass
stated that "the Stony Brook community has benefited greatly from his dedication and commitment to excellence".