'Definitely A Miracle'; Docs expect boy run over in driveway to make full recovery
4/21/2005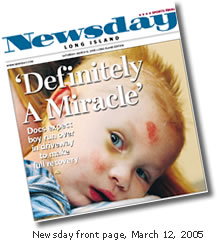 Tears welled up in Kim Polly-Palange's eyes Friday just before she announced the news: Her 2-year-old son was expected to fully recover. Just three weeks ago, Robert "Bobby" Palange Jr. was "minutes from death," doctors said, after his head was accidentally crushed when his father backed over him in his sport utility vehicle.
"His progress is so fast, I never would've expected it," said Kim Polly-Palange Friday. "It's definitely a miracle." During a 15-minute news conference Friday, Bobby, still groggy from a nap, clung to his mother and cried when he saw the barrage of news cameras.
Bobby's mother said he is cautiously playing with his siblings and enjoying "Brown Bear, Brown Bear," - one of his favorite books. He could be home within weeks after starting rehabilitation on Monday at St. Charles Hospital in Port Jefferson. Dr. Michael Egnor, Stony Brook's chief of pediatric neurosurgery, said the rehab will last several weeks and should seem like "play" to Bobby. It will ensure he's walking well, focusing and concentrating.
Already Bobby's facial fractures are healing nicely - meaning he might not need future reconstructive surgery, Egnor said. Doctors' only concern is possible vision problems in his right eye. "There's really no brain damage," he said. "The brain is beautiful."
On the morning of Feb. 21, Polly-Palange said Bobby was playing in the snow while his father, Robert Palange Sr., shoveled. He came inside, but suddenly returned outside "to his father, who thought he was in," she said. As Palange Sr. backed his 2001 Dodge Durango out of the family's Bellport driveway, he accidentally ran over Bobby's head. When an ambulance brought Bobby to Stony Brook University Hospital from Brookhaven Memorial Hospital Medical Center in East Patchogue, he was in a deep coma. His brain was severely swollen, his facial bones fractured and his pupils dilated. "This was the worst I'd seen," Egnor said. "Death was only a matter of minutes away."
Certain Bobby would not survive unless pressure was eliminated in his head, doctors performed a two-hour surgery to remove four areas of bone, 3 inches in diameter, from Bobby's skull, Egnor said. The procedure allowed Bobby's brain to swell without damage or increased pressure, which can sometimes cause death. Doctors drilled holes in the remaining skull bone, inserted pressure monitoring devices, and then cut the bone so it could float on top of, and protect, the brain. Bobby's detached skull pieces were stored under the skin of his abdomen to keep it sterile. Egnor said they will be returned to Bobby's brain in two to three weeks. For the next week and a half, Bobby remained in a hospital-induced coma.
The Palanges experienced what Polly-Palange called "an emotional roller coaster." Her husband has "had a very hard time," said Polly-Palange, who appeared at the news conference alone. "He's got so much guilt, but he's very strong." She said her husband "needs to keep busy," so he's been running between the hospital and their home, paying bills and taking care of their four other children, who range in age from 1 to 14. "It's actually strengthened our family," Polly-Palange said. "If we can get through this, we can get through anything."
The family plans to install a video camera on the rear of its SUV - a safety measure that would have prevented the accident, Polly-Palange said. For now, the family is focused on Bobby and amazed by the public's outpouring of prayers, cards and donations to Bobby's Fund at the Astoria Federal Savings Bank's Port Jefferson Station branch. "I pretty much have all hopes that he will function like he used to," she said.
Copyright, 2004, Newsday. Reprinted with permission