Dr. Gabrielle Carlson, SBUMC Psychiatrist, Receives Top Award for Research of Bipolar Disorder in Children and Adolescents
6/5/2007
Prestigious Award Presented Annually by the American Psychiatric Association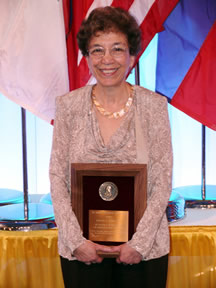 Dr. Carlson lives in East Setauket with her husband, Harold E. Carlson, M.D.
Gabrielle A. Carlson, M.D.
, Director of Child and Adolescent Psychiatry, and Professor of Psychiatry and Pediatrics at Stony Brook University Medical Center, is the recipient of the 2007 Blanche F. Ittleson Award for Research in Child Psychiatry from the
American Psychiatric Association (APA)
. The Ittleson Award recognizes Dr. Carlson's outstanding research contributions in advancing the mental health of children and adolescents with her description of the symptoms and outcome of bipolar disorder (previously known as manic-depressive illness) in young people. Dr. Carlson began her research on biopolar disorder more than 30 years ago, at a time when the disease was known to be familial and genetic but not recognized in children and adolescents.
Dr. Carlson accepted the award during the APA annual meeting in San Diego, Calif., on May 21. The APA is a medical specialty society that includes more than 35,000 members in the United States and around the world. The APA selected Dr. Carlson specifically for her published work that summarizes and extends the body of research on bipolar disorder. This work, "Phenomenology and diagnosis of biopolar disorder in children, adolescents, and adults: Complexities and developmental issues," is published in Developmental Psychopathology (2006 Fall: 18 (4): 939-69).
"Dr. Carlson has enlightened colleagues with her vast experience as a researcher, clinician, and educator in child and adolescent psychiatry," says Richard N. Fine, M.D., Dean, School of Medicine. "Through her expertise and leadership, Dr. Carlson has also helped countless children with biopolar disorder and other psychiatric conditions who are cared for at the Medical Center."
Dr. Carlson has practiced Psychiatry for more than 35 years. She is President-elect (2007-09) of the International Society for Research in Child and Adolescent Psychopathology. She has published widely in journals, books and other peer-reviewed publications on child and adolescent psychiatric topics, including attention and affective disorders, depression, and child psychology.
In 1985, Dr. Carlson came to Stony Brook as Director of the Division of Child and Adolescent Psychiatry. In 1988, Dr. Carlson was also appointed Professor of Pediatrics. Before coming to Stony Brook, Dr. Carlson held academic positions in Psychiatry at the University of Missouri Health Sciences Center in Columbia, Mo., and the UCLA School of Medicine in Los Angeles, Calif.
The recipient of many awards and honors, Dr. Carlson was named in America's Top Doctors, published by Castle Connolly, from 1992 to 2005. In addition, she was named in the "Best Doctors in New York" from 1994 to 2006. In 2003, Dr. Carlson received the Excellence in Teaching Award from Stony Brook University School of Medicine.
Dr. Carlson is board certified in Psychiatry and Child Psychiatry. Her professional memberships include the APA, the American Academy of Child and Adolescent Psychiatry, the Society for Psychosocial Research, and the International Society for Research in Child and Adolescent Psychopathology.