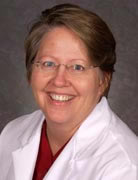 Janet E. Larson, M.D., Chief, Neonatology at Stony Brook University Medical Center, is the recipient of the 2007 Albion O. Bernstein, MD Award, presented annually by the Medical Society of the State of New York. The Society granted the 2007 award to a physician who has "the most widely beneficial discovery or developed the most useful method in medicine, surgery, or in the prevention of disease" in a 12-month period prior to November 22, 2006. The award specifically recognizes Dr. Larsonís lifelong commitment to the field of neonatology and her innovative research and development of fetal gene technologies.
"Dr. Larsonís fetal gene therapy research holds great potential for preventing congenital and debilitating lung disorders in premature infants," says Latha Chandran, M.D., M.P.H., Interim Chair, Department of Pediatrics at SBUMC, who nominated Dr. Larson for the award. "She is a leader in the area of neonatology, and her expertise and insight is invaluable in keeping Stony Brook University Medical Center at the forefront of neonatal medicine."
A nationally recognized neonatologist, Dr. Larson has cared for premature infants for more than 20 years and has investigated the use of fetal gene therapies for more than 10 years. Dr. Larson recently developed a method to transfer genes in the fetus to successfully treat congenital diaphragmatic hernia (CHD) in animal models. The clinical course of infants born with CHD is complicated by severe respiratory failure and persistent pulmonary hypertension, with a mortality rate approaching 60 percent. The disease outcome is closely linked to pulmonary hypoplasia, or underdeveloped lungs, and the gene treatment ameliorated these complications. This innovative work, published in the American Journal of Physiology (2006), showed significantly improved parameters of lung growth with the CFTR gene treatment.
Dr. Larson is the first physician from SBUMC to receive the honor from the Medical Society of the State of New York. First given in 1962, the award is endowed by the late Morris J. Bernstein in memory of his son, a physician who died in an accident while answering a hospital call in 1940. Past recipients include physicians and scientists specializing in areas such as genetics, oncology, and infectious diseases.
Board-certified in Pediatrics and Neonatology, Dr. Larson held various leadership positions in neonatal research before coming to Stony Brook in 2005. From 2003 to June 2005, she was Head of the Ochsner Childrenís Research Institute at the Ochsner Clinic Foundation in New Orleans, La. From 1991 to 2005, Dr. Larson was Director, Laboratory of Molecular Therapeutics at the Ochsner Clinic Foundation.
In 1997, Dr. Larson was named "Technologist of the Year" by the Louisiana Partnership for Technology and Innovation. In 1999, a feature in New Scientist referred to Dr. Larson as a "gene healer" for developing her method of gene therapy for the fetus. In 2002, she received a patent for genetically modified lung cells having novel morphology and immunoprotectant properties.
Dr. Larson lives in Port Jefferson with her husband and collaborator, J. Craig Cohen, Ph.D.