Dr. Margaret Parker Named a Master of Critical Care Medicine by National Society
2/28/2014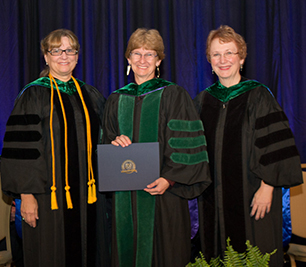 Stony Brook Medicine's Dr. Margaret Parker, in center, was honored as a Master of Critical Care Medicine by the Society of Critical Care Medicine (SCCM) at its 2014 Critical Care Congress. With Dr. Parker are, from left: Sandra Lee Blosser, Chancellor of the American College of Critical Care Medicine, and Carol Thompson, President, SCCM.
Margaret Parker, MD, FCCM,
a pediatric critical care specialist at Stony Brook Medicine, has been selected as a Master of Critical Care Medicine (MCCM) by the
Society of Critical Care Medicine (SCCM)
. The honor is bestowed upon the society's long-standing fellows for their achievements in critical care medicine, leadership, and outstanding contributions to research and education in the field.
The SCCM is the largest multi-professional organization dedicated to ensuring excellence in the practice of critical care and promotes research, education and patient advocacy. With nearly 16,000 members in more than 100 countries, the SCCM's mission is to secure the highest quality care for all critically ill and injured patients. The American College of Critical Care Medicine is part of the SCCM.
Dr. Parker, Professor of Pediatrics at Stony Brook University School of Medicine and Chief of the Critical Care Division at Stony Brook Children's Hospital, has practiced pediatric critical care medicine since her arrival to Stony Brook in 1991. She has directed the Pediatric Intensive Care Unit since 1995 and also served as Interim Chair of the Department of Medicine from 2006 to 2011. Her 35-year career in medicine included a Fellowship in Critical Care Medicine at the National Institutes of Health (NIH). There she rose to become Head of the NIH's Critical Care Section from 1982 to 1991 before joining Stony Brook.
According to the SCCM, fellows selected for the honorary MCCM designation have high personal character, eminence in clinical practice, and provide exemplary contributions to the Society and College and the field of critical care in its broadest sense.
"Being selected as a MCCM is an outstanding honor conferred upon Dr. Parker," said
Margaret M. McGovern, MD, PhD,
Professor and Chair of the Department of Pediatrics and Physician-in-Chief of Stony Brook Children's. "This designation is given only to those who truly have national and international stature in the field of critical care medicine. We are fortunate to have such an outstanding leader for our pediatric critical care program and role model for our junior faculty and trainees."
"It is humbling to join the ranks of the giants in critical care medicine," said Dr. Parker. "I am tremendously honored, and the selection is a reflection of the respect my colleagues have for me and a recognition of the contributions I have been able to make to the Society and to the critical care field."
Dr. Parker received her MD degree from Brown University. She is board certified in Internal Medicine, Critical Care Medicine and Pediatrics. Dr. Parker is a member of numerous professional organizations, including the American College of Physicians (fellow), American Academy of Pediatrics (fellow), American College of Critical Care Medicine (fellow and master) and the SCCM (a past president), the New York Society of Pediatric Critical Care Medicine, and the Suffolk County Pediatric Society.
She has received many professional honors including Best Doctors in New York (five times), the Distinguished Service Award for the SCCM (2007), Woman of the Year from the American Biographical Institute (2003), the Leonard Tow Humanism in Medicine Award at Stony Brook in 2005.
A prolific researcher in critical care and pediatrics, Dr. Parker has authored some 60 research papers and authored or edited more than 30 book chapters.