ELECTROPHYSIOLOGY PROGRAM TO GROW UNDER LEADERSHIP OF NEW EP DIRECTOR IN THE HEART CENTER AT SBUH
8/10/2006
Dr. Eric Rashba brings expertise in cardiac resynchronization, atrial fibrillation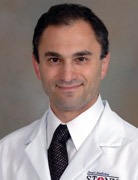 STONY BROOK, N.Y., August 9, 2006 – Eric J. Rashba, M.D., FACC, Professor of Medicine, has joined the Heart Center at Stony Book University Hospital as Director of Electrophysiology, it was announced by David L. Brown, M.D., Chief of Cardiovascular Medicine and Co-Director of the Heart Center.
Electrophysiology is a branch of cardiology that bases knowledge of the electrical systems of the heart to diagnose and treat patients. Dr. Rashba, a board certified cardiac electrophysiologist, specializes in diagnosing heart rhythm disorders and employing the latest electrophysiologic therapies including drugs, devices or ablation to treat patients.
"Dr. Rashba is among the most talented electrophysiologists in the country," said Dr. Brown. "His clinical and technical skill combined with his cutting edge research program will allow the latest treatments for heart rhythm disorders to be offered to patients of Long Island."
Also board certified in internal medicine and cardiovascular disease, Dr. Rashba treats all types of cardiac arrhythmias and performs cardiac resynchronization therapy on congestive heart failure patients. He will advance radiofrequency ablation therapy for atrial fibrillation at Stony Brook, and his practice also includes ablation therapy for ventricular and supraventricular tachycardia, as well as implantable cardioverter defibrillator (ICD) and pacemaker implantation.
Dr. Rashba's research interests include the prediction and prevention of sudden cardiac death, electrophysiologic effects of late percutaneous coronary interventions in acute myocardial infarction, and identification of factors that predict survival benefit from ICD implantation among patients with non-ischemic cardiomyopathy.
The author of many peer-reviewed journal articles and book chapters in all areas of his clinical and research expertise, he is among a small percentage of cardiac electrophysiologists nationwide who are funded by the National Institutes of Health (NIH) to carry out clinical research. One of his NIH-funded studies is examining if opening blocked arteries with heart balloons and stents prevents heart rhythm problems in patients 3 to 28 days after a heart attack. Another NIH study focuses on the primary prevention of sudden cardiac death by identifying patients with systolic dysfunction who are most likely to suffer malignant ventricular arrhythmias. More specifically, this study tests if T wave variability and T wave alternans are predictors of arrhythmic events among patients with ischemic cardiomyopathy.
Dr. Rashba comes to Stony Brook from the University of Maryland School of Medicine, where he was Associate Professor of Medicine and a Cardiac Electrophysiologist. He received his medical doctorate from Yale School of Medicine and subsequently served his internship and residency at Strong Memorial Hospital in Rochester, N.Y. He completed cardiology and cardiac electrophysiology fellowships at the University of Rochester Medical Center and the New England Medical Center in Boston.