SBU "Giant Frog From Hell" Ranks #2 in National Geographic "Most Read" List of 2008
12/29/2008
The discovery of a giant frog fossil by David W. Krause, Ph.D., Distinguished Service Professor, Departments of Anatomical Sciences and Geosciences at Stony Brook University, has made the 2008 Top Ten Most Read Dinosaur & Fossil Finds stories of National Geographic. The magazine placed the giant "frog from hell" fossil found in Madagascar on a list that includes discoveries such as a bull-size rodent, a giant "sea monster," and the DNA recreation of a Neanderthal face.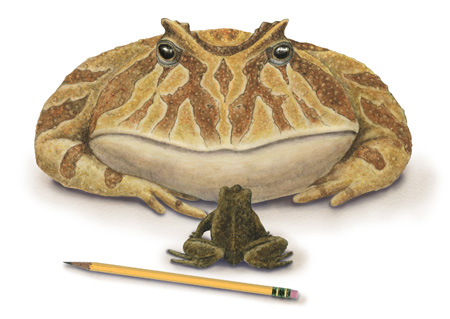 Beelzebufo ampigna
Credit: Illustration by Luci Betti-Nash
Facing off against the largest known living Malagasy frog, Mantydactylus ampigna, was the #2 "Most Read" Dinosaur and Fossil Find story in National Geographic in 2008. (Full-length pencil provides size perspective.)
Called Beelzebufo ampingna, meaning 'armored frog from hell,' fossil fragments of the ancient frog were discovered by Dr. Krause and his field crews over the course of 15 years. He and colleagues pieced the various specimens together and their findings were reported in the Proceedings of the National Academy of Sciences in February 2008.
Their evidence points to what may have been the largest frog to ever exist, over 16 inches long and weighing up to 10 pounds. In addition, the unique bony features of Beelzebufo, which lived 65 to 70 million years ago, link to a group of frogs that live today in South America. This has significant and surprising implications for long-severed connections between Madagascar and South America.
"It is gratifying to know that the National Geographic readership is so intrigued by our discovery of Beelzebufo, and its relevance to testing ideas about plate tectonic fragmentation of the former supercontinent of Gondwana," says Dr. Krause. "We hope to discover more complete remains of this bizarre fossil animal in future expeditions, hopefully more than just isolated bits and pieces." National Geographic is one of the world's leading magazines on scientific discoveries National Geographic News online reports hundreds of new discoveries and findings in the areas such as biology and other life sciences, geology, ecology and space. The Top Ten Dinosaur & Fossil Finds list of 2008 is published online at http://news.nationalgeographic.com/news/2008/12/081219-top-ten-dinosaurs-fossils.html.