HUNDREDS CELEBRATE CANCER SURVIVORSHIP WITH THEIR CAREGIVERS AT STONY BROOK
6/11/2013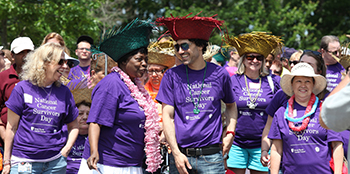 Ethan Zohn, celebrity guest speaker, Survivor: Africa TV show winner and cancer survivor, marches in celebration with hundreds of Stony Brook patients during the "Parade of Survivors."
Ethan Zohn, Winner of Survivor: Africa and a two-time cancer survivor, inspires attendees
Nearly 300 cancer survivors, their families, friends and the doctors, nurses and other professionals who cared for them at Stony Brook University Cancer Center celebrated Stony Brook's 9th annual National Cancer Survivors Day (NCSD) on June 9. Ethan Zohn, Survivor: Africa TV show winner, former professional soccer player, and a two-time cancer survivor, brought a message of perseverance to cancer patients.
"Cancer changed me, and I know it has changed you, and in the long-run that can be for the better," said Zohn to fellow cancer survivors. "Living with cancer is part of your long-term survival. Remember that living with and beating your disease makes you a true winner and survivor in life, which is not a game or a show."
Zohn said he lost 32 pounds in 39 days in Survivor: Africa, but it is nothing compared to the survivor battle he is fighting against Hodgkin's lymphoma. He has had two stem cell transplants and has been in remission for 15 months.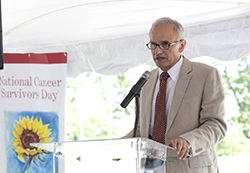 Dr. Yusuf A. Hannun, Director of the Stony Brook University Cancer Center, addressed survivors sand spoke of a silent revolution in cancer medicine, in which Stony Brook specialists are developing targeted treatment approaches to advance care and minimize adverse effects.
"This is an important day for our patients, the doctors and staff at Stony Brook who work so hard to help cure them, and the entire community in our ongoing fight against cancer," said
Yusuf A. Hannun, MD,
Director, Stony Brook University Cancer Center, Vice Dean for Cancer Medicine, and the Joel Kenny Professor of Medicine. "The era of genomic medicine that we are now in is creating a kind of silent revolution in cancer medicine, in which new targeted therapies are increasing remission rates and minimizing adverse effects. Through collaborative research and clinical trials, Stony Brook Cancer Center specialists are developing new treatment approaches to help their patients and advance cancer medicine."
Central to expanding cancer research at Stony Brook is Stony Brook Medicine's plan to build a state-of-the-art translational medical research building (MART) that will focus on cancer research, advanced imaging, and a new cancer center. Projected to break ground in early 2014, the 250,000-square-foot-facility would be located on the Stony Brook Medicine campus where scientists and physicians would work side by side to research and discover new treatments and technology. The MART's cancer care will triple Stony Brook's capacity for outpatient services and enhance all cancer care for Long Island and beyond.
According to the American Cancer Society, cancer survivorship continues to increase but cancer remains the second most common cause of death in the United States and 1.6 million new cases are projected to occur in the U.S. this year. Stories of hope, however, from all age groups were reflected during the celebration at Stony Brook.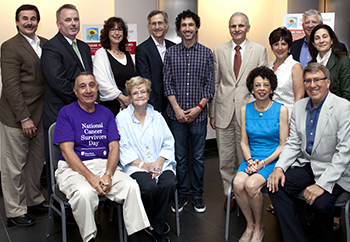 Stony Brook's NCSD celebration would not have been possible without the generous support of Peter and Barbara Ferentinos, bottom left, and Gloria and Mark Snyder, bottom right. Pictured with them, from left, are: Dr. Michael Schuster, Director of Stony Brook Medicine's Bone Marrow and Stem Cell Transplantation Program; Scott Reid, Associate Director for Finance and Administration, Stony Brook Cancer Center; Dr. Lina M. Obeid, Dean of Research, Stony Brook University School of Medicine; Dr. Kenneth Kaushansky, Senior Vice President of the Health Sciences and Dean, School of Medicine; Ethan Zohn; Dr. Yusuf A. Hannun, Director, Stony Brook Cancer Center; Rose Cardin, MSN, RN, Associate Director for Cancer Services; Dr. L. Reuven Pasternak, Senior Vice President for Health Systems at Stony Brook Medicine and CEO of Stony Brook University Hospital, and Lauren Kaushansky.
Samantha Fried, of Islandia, a 37-year-old breast cancer survivor and the Stony Brook patient speaker, relayed how she was shocked by her diagnosis at age 35. After undergoing a double mastectomy, she received additional treatment at Stony Brook. She persevered. While undergoing treatment she attended Stony Brook University School of Nursing. Fried completed the program, received her RN degree, and recently passed the board examinations. She has also completed her treatments and is cancer free.
Joshua Sackstein, 23, of Fort Salonga, and a survivor of childhood leukemia, came to the event because he thought it would be moving to see and talk to other survivors at one setting. Attending the celebration, he said, helps him to continue valuing life at a young age and is inspiring him to find a way to give back and help others going through treatment.
"This day makes me thank God, all of my doctors and caregivers at Stony Brook, and really everyone who has joined this fight against cancer," said Roy Romard, of Sayville. The 56-year-old lymphoma survivor was treated at Stony Brook from the time he was diagnosed in 2007. He recently passed the five-year mark of being cancer free.
As a prelude to his celebrity guest appearance and message of perseverance at Stony Brook's NCSD celebration, Zohn took his message personally to cancer patients in Stony Brook University Hospital on June 8.
"I know it stinks to be in the hospital," he told a group of pediatric patients gathered in the playroom at Stony Brook Children's Hospital. "You've got to have trust in all these guys at the hospital, because they're going to do all they can to make you healthy."
"It was cool," said five-year-old George Cochoy of Zohn's visit. Cochoy and other children engaged Zohn in a rousing game of "Zingo!" in the playroom before each received an autographed neckerchief and photo of Zohn. He also distributed "headbands of hope" from an organization that supports the St. Baldrick's Foundation, which funds research for childhood cancer.
NCSD is an annual, worldwide celebration each June when hundreds of communities partake in a symbolic event to celebrate survivorship and life. For photos of Stony Brook's 2013 event see this
Facebook
page.
About Stony Brook University Cancer Center:
Stony Brook University Cancer Center is Suffolk County's cancer care leader and a leader in education and research. With more than 20,000 inpatient and outpatient visits annually, the Cancer Center includes 12 multidisciplinary teams: Breast Cancer; Colorectal Cancer; Gynecologic Oncology; Head, Neck and Thyroid Oncology; Lung Cancer; Melanoma; Neurologic Oncology; Orthopaedic Oncology and Sarcoma; Pediatric Hematology/Oncology; Stem Cell Transplantation and Hematologic Malignancy; Upper Gastrointestinal Oncology; and Urologic Oncology. The cancer program is accredited by the American College of Surgeons Commission on Cancer as a Teaching Hospital Cancer Program and received the Commission's Outstanding Achievement Award. The Carol M. Baldwin Breast Care Center is the first center in New York State to be accredited by the National Accreditation Program for Breast Centers. To learn more, visit
www.cancer.stonybrookmedicine.edu.