JOSEPH LAVER, MD, NAMED CHIEF MEDICAL OFFICER FOR STONY BROOK UNIVERSITY HOSPITAL
6/19/2013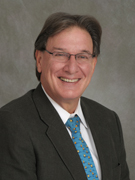 Executive Vice President at St. Jude Children's Research Hospital to join SBUH in September
Joseph H. Laver, MD,
Executive Vice President at St. Jude Children's Research Hospital, has been named Chief Medical Officer of Stony Brook University Hospital (SBUH) and Professor of Pediatrics in the Stony Brook University School of Medicine, effective Sept. 3. The announcement was made on June 19 by L. Reuven Pasternak, MD, Chief Executive Officer at SBUH.
For five years, Dr. Laver served as Executive Vice President and Clinical Director, and as Chief of St. Jude's clinical operations. He headed the clinical care delivery and patient care quality and oversaw all clinical programs at St. Jude, including outside consulting physicians, nursing and clinical space, and supervised the planning and management of overall clinical systems and staff.
Prior to joining St. Jude's, Dr. Laver served as Chairman of the Department of Pediatrics at Virginia Commonwealth University Medical Center, where he held the Jesse Ball duPont Professorship in pediatrics. Before that, he served as Director of the Division of Hematology/Oncology and Pediatric Bone Marrow Transplantation at the Medical University of South Carolina (MUSC) in Charleston, SC, where he also served as Vice Chairman of the Department of Pediatrics. Prior to joining MUSC, he served as Assistant Professor of Pediatrics at Memorial Sloan-Kettering Cancer Center and Cornell University Medical College in New York.
"Dr. Laver brings a commitment to patient safety and quality that will greatly benefit Stony Brook during a time of tremendous change in healthcare," Dr. Pasternak said. "He will bring renewed focus to Stony Brook's initiatives in continuing to improve our clinical outcomes while honing our institutional focus on patient safety as we prepare for new delivery models through healthcare reform."
"My focus is how to build and maintain excellence and improve quality during this time of enormous transition in the healthcare industry," Dr. Laver said. "My vision and goal are to improve clinical care delivery, clinical effectiveness and physician management as reform measures are implemented. Stony Brook is at an important crossroad to expand and lead in healthcare, both regionally in Long Island and nationally, and I am very excited to join at this particular time."
Dr. Laver received his medical degree from Technion in Haifa, Israel, and completed his pediatric internship and residency in Israel. He completed a pediatric hematology/oncology fellowship at Memorial Sloan Kettering Cancer Center, followed by a pediatric research fellowship at Sloan Kettering Institute, where he also served as Chief Fellow for the Department of Pediatrics. He earned a master's degree in health administration from the MUSC. He is board certified in pediatrics and pediatric hematology/oncology.
In 1986, Dr. Laver received the American Society of Clinical Oncology Young Investigator Award. He received the American Cancer Society's Career Development Award from 1986 to 1989 and was named among the Best Doctors in America in 1999, 2001, 2005, 2006, 2007, 2008 and 2011. He was named to America's Top Doctors in 2011.
As CMO, he replaces
Todd Griffin, MD, FACOG,
who became CMO in 2009 and was named Chairman of the Department of Obstetrics, Gynecology and Reproductive Medicine at Stony Brook University School of Medicine in August 2012. Dr. Pasternak thanked Dr. Griffin for his service to Stony Brook in dual roles over the past year. Dr. Griffin was assisted by
Dr. Peter Vicellio
, Clinical Director of the Emergency Department at SBUH, who served as Associate CMO on an interim basis.
About Stony Brook University Hospital:
Stony Brook University Hospital (SBUH) is Long Island's premier academic medical center. With 603 beds, SBUH serves as the region's only tertiary care center and Level 1 Trauma Center, and is home to the Stony Brook Heart Institute, Stony Brook Cancer Center, Stony Brook Long Island Children's Hospital, Stony Brook Neurosciences Institute, and Stony Brook Digestive Disorders Institute. SBUH also encompasses Suffolk County's only Level 4 Regional Perinatal Center, state-designated AIDS Center, state-designated Comprehensive Psychiatric Emergency Program, state-designated Burn Center, the Christopher Pendergast ALS Center of Excellence, and Kidney Transplant Center. It is home of the nation's first Pediatric Multiple Sclerosis Center. To learn more, visit
www.stonybrookmedicine.edu.