STONY BROOK UNIVERSITY MEDICAL CENTER PHYSICIAN, NURSING ADMINISTRATOR RECEIVE HEALTH CARE HEROES AWARDS
12/2/2011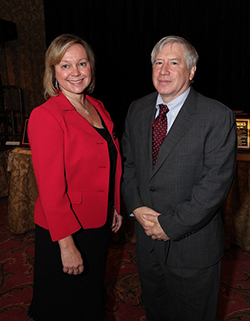 Long Island Business News magazine honors Dr. Lawrence Hurst, Diane Carlson
Two of Stony Brook University Medical Center's finest were honored as recipients of the annual Health Care Heroes awards by Long Island Business News on Nov. 10.
Lawrence C. Hurst, M.D.
, Professor and Chairman of the Department of Orthopaedics at Stony Brook University School of Medicine, and Diane Carlson, MS, RN, CPNP, CNAA-BC, Director of Nursing Support Services at Stony Brook University Hospital (SBUH), were among 42 individuals and institutions honored at the magazine's sixth annual awards ceremony, held at Crest Hollow Country Club in Woodbury.
Dr. Hurst was one of eight recipients of the Physician Hero award, and Carlson was one of seven nurses honored with the Nurse Hero award at the annual event.
An internationally recognized orthopaedic surgeon, Dr. Hurst, working with colleague Marie A. Badalamente, Ph.D., Professor of Orthopaedics in the School of Medicine, discovered and developed a new injectable form of the enzyme collagenese, which is used to treat Dupuytren's contracture, a debilitating disease caused by progressive accumulation of collagen that deforms hands and fingers. Drs. Hurst and Badalamente discovered this treatment during a 15-year research initiative and received FDA approval for the new drug treatment last year. Dr. Hurst has served as Chairman of the Department of Orthopaedics at Stony Brook since 1996.
Carlson has worked at SBUH since 1986 and was board-certified as a nursing administrator in 2006. She has worked as a staff nurse, nurse manager and nurse administrator during her career, and has served as Director of Nursing Support Services since 2008. Her previous roles include Nurse Manager of the Burn Center, Nurse Recruiter, Adjunct Clinical Professor in the Stony Brook University School of Nursing, and staff nurse in the Anesthesia ICU and Outpatient Holding Area. She helped to establish a Burn Prevention Program in Suffolk County and coordinated a key research study on the effective use of Gabapentin to treat severe itching experienced by burn patients.
The publication's annual awards recognize excellence, innovation, and contributions to the value and quality of health care for residents of Long Island. Nominations require a biography for each candidate, along with evidence of their achievements, recognition and community involvement.
A steering committee composed of Long Island healthcare leaders selects each year's winners in the following categories: Community Outreach, Complementary/Alternative Medicine, Health Care Facility, Health Care Professional Hero, Hospital, Nurse Educator, Nurse Hero, Physician Hero, Veterinary Hero and Volunteer Hero. The winners were featured in a special Health Care Heroes section of Long Island Business News published on Nov. 11 and available online at
http://libn.com
.