Mark Schweitzer, MD, Named Chair of Radiology for Stony Brook Medicine
7/1/2013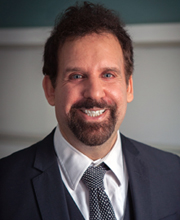 Dr. Schweitzer plans to expand imaging and bring Stony Brook to the national forefront of interventional imaging techniques against disease
Mark Schweitzer, MD, FRCPSC
, a medical scholar, educator and experienced hospital administrator, has been named Chair of the Department of Radiology at Stony Brook Medicine. The announcement was made by Kenneth Kaushansky, MD, MACP, Senior Vice President, Health Sciences, and Dean, Stony Brook University School of Medicine.
A native of Plainview, Dr. Schweitzer comes to Stony Brook from The University of Ottawa in Ottawa, Canada, where he was Chief of Diagnostic Imaging and Chair of Radiology. Dr. Schweitzer received his bachelor of science degree from Sophie Davis School of Biomedical Education at the City University of New York. He earned his medical degree from State University of New York at Buffalo, and completed his residency in diagnostic radiology at Nassau County Medical Center (now Nassau University Medical Center), as part of Stony Brook's program, serving as Associate Chief Resident. He performed a fellowship in musculoskeletal radiology at University of California, San Diego.
Dr. Schweitzer has reviewed more than two dozen scholarly journals, served on numerous expert advisory panels, including NIH study sections and FDA panels, and has received numerous teaching, mentoring and research awards for his University and continuing medical educational activities. He has participated as Principal Investigator or co-Principal Investigator on more than 30 grants, including NIH R01 awards, and many clinical trials of the effectiveness of novel contrast agents. He has been published in 325 scholarly journal publications, three books and 60 book chapters or syllabi, spanning a range of imaging disciplines from clinical to basic research.
"Dr. Schweitzer is both an outstanding medical scholar and educator," said Dr. Kaushansky. "As a clinician, he is effective, expert and in great demand. He is also a talented administrator who has served in many hospital and medical practice capacities, including Medical Staff, Medical Informatics, and Divisional and Departmental roles. His goal for Stony Brook Medicine is to grow our Imaging program to be one of the best in the country. He will work on improving the already excellent training programs to become world class."
"I have had a fascinating journey and learned many academic and managerial skills," Dr. Schweitzer said. "I hope to use the advanced research techniques I have learned to put Stony Brook at the forefront of using imaging to understand the natural history and effect of interventions on disease. I also have learned much about efficiency in health and appropriate utilization, skills that will become increasingly important with the tectonic shifts in healthcare cost controls coming to our country."
Dr. Schweitzer is certified by the American Board of Radiology and has served as Presiding Officer of the Radiological Society of North America, as well as the International Skeletal Society. Cited as a perennial "Best Doctor" by New York and Philadelphia magazines, he has served as consultant for many professional sports teams, including the New York Mets, New York Islanders, New York Nets, Philadelphia 76ers and Philadelphia Eagles. He has also consulted for numerous college teams, the Pennsylvania Ballet Company, and the 2010 Winter Olympics and Paralympics in British Columbia.
As Chair of the Department of Radiology, he will replace John Ferretti, MD, who has been serving as interim Chair. "I wish to heartily thank Dr. Ferretti for shepherding the department through many challenges, and for maintaining our focus on delivering effective clinical care to our patients," Dr. Kaushansky said.