HEART FAILURE SPECIALIST JOINS STONY BROOK TO BROADEN PROGRAM TREATING PATIENTS WITH ADVANCED HEART CONDITIONS
10/17/2011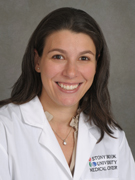 Dr. Michelle Weisfelner Bloom Practices through the Heart Failure and Cardiomyopathy Center
Michelle Weisfelner Bloom, M.D., has been appointed Assistant Professor in the Department of Medicine, Division of Cardiovascular Diseases, at Stony Brook University School of Medicine, announced Luis Gruberg, M.D., Professor of Medicine and Interim Chief of the Division of Cardiovascular Diseases. Dr. Bloom's practice will encompass treating patients with a wide range of advanced cardiovascular diseases at Stony Brook's Heart Failure and Cardiomyopathy Center.
Dr. Bloom will practice primarily through the Center, which provides long-term, well-managed care of chronic heart conditions by implementing state-of-the-art diagnostic tools, lifestyle education, and emerging treatments. She will also be an integral member of Stony Brook's Ventricular Assist Device (VAD) Program. This multidisciplinary VAD program, the only program of its kind on Long Island, evaluates and implants state-of-the-art mechanical heart pumps to treat patients with advanced heart failure, hoping to give them a new lease on life.
"Dr. Bloom is a wonderful addition to the Section of Heart Failure and Cardiomyopathy," says Dr. Gruberg. "Her experience, passion, and research interests in heart failure and advanced cardiovascular disease will benefit patients by offering sophisticated diagnostic and treatment capabilities to a complex group of patients."
Dr. Bloom comes to Stony Brook from Mount Sinai School of Medicine in New York, where she completed a one-year advanced Heart Failure, VAD and Cardiac Transplant Fellowship, after a three-year Cardiovascular Fellowship at Mount Sinai Medical Center. At Mount Sinai, she collaborated with other faculty to research various cardiovascular and heart failure related issues, such as obesity related cardiomyopathy, analyses of heart device utilization rates in ethnically diverse populations, and the investigation of novel cell, gene and imaging based diagnostics to help predict sudden cardiac death in patients with chronic systolic heart failure.
A Magna Cum Laude graduate with a B.S. in Biology from Brandeis University, Dr. Bloom received her M.D. from the University of Medicine and Dentistry of New Jersey—Robert Wood Johnson Medical School. She subsequently completed an Internal Medicine Residency at Albert Einstein College of Medicine/Montefiore Medical Center.
Dr. Bloom is board certified in both Internal Medicine and Cardiovascular Disease and has Level II certifications in Echocardiography (including TEE and Stress Echo) and in Nuclear Cardiology. She is a member of the American College of Cardiology, the American Heart Association, and the Heart Failure Society of America.
Dr. Bloom will see patients at Stony Brook's inpatient service in Stony Brook University Hospital and at the outpatient office in Islandia. To make an appointment, call 631-444-9799 or (631-44-HEART).