MUSIC, SONG AND DANCE HIGHLIGHT STONY BROOK'S "RISING STARS" TALENT SHOW FEATURING PEDIATRIC CANCER PATIENTS
11/16/2006
Sponsored by The Sunrise Fund, the Show Also Featured SBUMC Doctors, Staff
STONY BROOK, NY, November 15, 2006 ? Children with cancer, their siblings, along with doctors, nurses and staff of Stony Brook University Medical Center, put on a rousing and diverse show at the third ?Rising Stars? Talent Show, held at the Student Activity Center on the Stony Brook University campus on October 29. Numerous children treated for cancer or blood disorders at SBUMC sang, danced, performed comedy skits or displayed other talents, including artwork exhibited during the event reception.
"Rising Stars" is sponsored by the Sunrise Fund at SBUMC, which raises awareness about childhood cancer and provides programs for patients throughout Long Island. The talent show brings a sense of accomplishment to the performers, as well as improves their self-esteem and confidence during a period in which the children are trying to live life as normally as possible. The Sunrise Fund, in conjunction with the doctors, nurses and staff of the Division of Pediatric Hematology/Oncology, organizes and runs the event.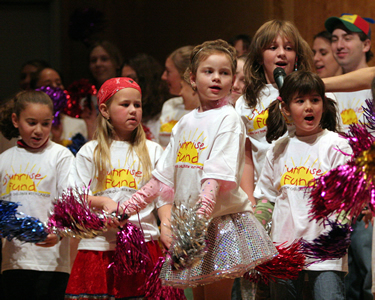 Shown on stage during the grand finale performance at the "Rising Stars" Talent Show are some of the children performers singing "We?re All in this Together," from the Disney musical/movie High School Musical. The Sunrise Fund at Stony Brook University Medical Center sponsored the show. Pictured in front, from left, are: Elexus Seda, 8, daughter of Lori Seda, a pediatric nurse at SBUMC; Amanda Cirrincione, 8, a patient; Andra Zeltins, 7, a patient; Samantha Goff, 10, sister of patient Brian Goff, and Elana Lee, 6, daughter of Dr. Thomas Lee, a pediatric surgeon at SBUMC.