Country Music Star, Clay Walker, Donates $100,000 to National Pediatric MS Center at SBUMC
12/10/2008
Country music singer Clay Walker's non-profit charity, Band Against MS (BAMS), donated $100,000 to the National Pediatric MS (Multiple Sclerosis) Center at Stony Brook University Medical Center. On November 21 at Stony Brook Manhattan, Walker personally presented a check to
Lauren Krupp, M.D.
, Director of Center, to help fund research on the causes of and treatment for MS in children.
"Few people realize that Multiple Sclerosis is in fact the leading cause of non-traumatic disability in young people throughout the world," said Walker. "We learned that Dr. Krupp and Stony Brook University Medical Center are leaders in Pediatric MS research, and we wanted to direct our resources their way. These kids are just beautiful."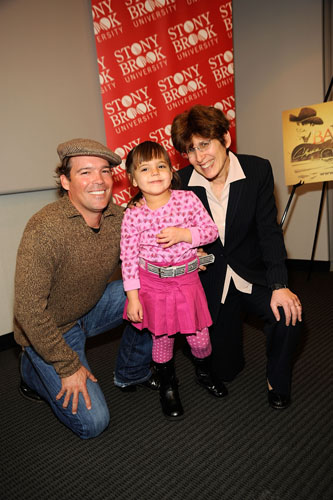 Country music star Clay Walker shares a moment to smile and laugh with 5-year-old Julia Russo, an MS patient, along with her doctor, Lauren Krupp, M.D., Director of the National Pediatric MS Center at an event at Stony Brook Manhattan on November 21. Walker's non-profit charity, Band Against MS, donated $100,000 to the Center.
During the event, Dr. Krupp and Walker spent time with 5-year-old Julia Russo and her family. Julia was diagnosed with MS by Dr. Krupp two years ago. After many months of agonizing symptoms that at times lead to her inability to see or walk, Julia was brought to the Center for evaluation. After diagnosis, Julia was placed on a treatment regimen. She has progressively gotten better and is now in school.
Walker, who was diagnosed with the disease in 1996 founded Band Against MS in 2003 to provide educational information for those living with MS and fund programs that may one day lead to a cure. To date, Band Against MS has raised more than one million dollars.
The National Pediatric MS Center at Stony Brook University Medical Center was established to advance the recognition, evaluation, and treatment of pediatric MS through the creation of a multidisciplinary program dedicated to clinical care and scientific research of children and adolescents with MS. The Center includes a multidisciplinary team of experts in MS, pediatric neurology, nursing, psychiatry, and neuropshychology. Funded in part by the National Multiple Sclerosis Society, the Center has been designated as a Center of Excellence by the Society.