"SUMMER SOIREE" RAISES $175,000 FOR NATIONAL PEDIATRIC MS CENTER AT SBUMC
8/7/2009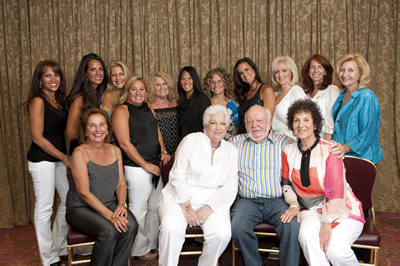 The 2009 Summer Soiree Committee gathers with honorees Cynthia and George Marks, front and center, along with Merry Slone, front (far right), founder of the event, during the July 29 benefit for the National Pediatric MS Center at Stony Brook University Medical Center.
The 2009 "Summer Soiree," presented by the National Pediatric MS (multiple sclerosis) Center at Stony Brook University Medical Center, raised $175,000 to benefit research at Center, the only one of its kind in the region. The event took place at the Crest Hollow Country Club in Woodbury, N.Y., on July 29. "Big Shot," a Billy Joel tribute band, stole the evening, as 360 attendees danced the night away for a good cause.
The Summer Soiree is an annual benefit where guests dress in "denim chic" to fit the season. The event included music, dance, delectable dining, and a silent auction. This year, philanthropists Cynthia and George Marks of Brookville, N.Y., were honored for their support of pediatric MS.
A portion of the event proceeds will benefit the Team Adventure Camp Program, an annual summer camp program for teenagers with MS.
The National Pediatric MS Center at SBUMC was established to advance the recognition, evaluation, and treatment of pediatric MS through the creation of a multidisciplinary program dedicated to clinical care and scientific research of children and adolescents with MS. The Center includes a multidisciplinary team of experts in MS, pediatric neurology, nursing psychiatry, and neuropsychology. Funded in part by the National Multiple Sclerosis Society, the Center has been designated as a Center of Excellence by the Society.