New Head and Neck Cancer Surgeon Appointed
9/7/2005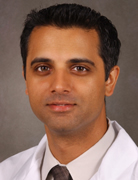 Kepal Patel, MD, a surgical oncologist whose primary clinical focus is the management of head and neck tumors, joined the Long Island Cancer Center (LICC) at Stony Brook University Hospital in July as Assistant Professor of Surgery, Division of Surgical Oncology.
Dr Patel comes to the LICC from Memorial Sloan Kettering Cancer Center in Manhattan where he completed his fellowship training in head and neck oncology. He provides additional expertise for treating head and neck cancers at SBUH because of his special interest in translational research in these types of tumors. His clinical work falls within the Head and Neck Section of the Division of Otolarynogology, under the leadership of Maisie Shindo, MD, Director, Head and Neck Oncology, who is a nationally recognized expert in head and neck oncologic surgery and thyroid/parathyroid surgery.
In 2004, Dr Patel received the Young Investigator Award from the American Society of Clinical Oncology for his research on therapeutic targeting of a certain gene involved in aggressive thyroid cancer. He plans to continue this specific research and related investigation on genetic profiling in the progression of thyroid cancer. Dr Patel will collaborate with Dafna Bar-Sagi, PhD, Chair of the Department of Molecular Genetics and Microbiology, in these research efforts.
For more information or to arrange consultations and appointments, please call (631) 444-4545.