"Best Doctors in New York"
7/24/2008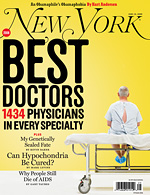 New York magazine's annual "Best Doctors in New York" issue features 29 full time and voluntary physicians from Stony Brook University Medical Center. Boasting a wide range of specialties, they were selected from more than 50,000 physicians in the Greater New York Metropolitan Area. The "Best Doctors" list approximately represents the top 3% of New York-area physicians. The issue hit newsstands on June 16, 2008.
The "Best Doctors" list is comprised by Castle Connolly Medical, a medical research and publishing company. The selection process is based on peer nominations, followed by telephone interviews with leading specialists, chiefs of service, and other hospital personnel. Criteria for selection include professional qualifications, communication skills, and reputation, among other factors. Castle Connolly specifically asked for the commendations of those to whom the nominator would refer their own patients and family members. Once the interviews were completed, the nomination pool was tabulated and a group of 6,000 doctors were chosen. The "Best" 1,434 were then hand-picked from that list and featured in New York Magazine.
"This is a noteworthy distinction," says Dr. Steven L. Strongwater, hospital CEO. "Our physicians make enormous contributions every day, and continuously work hard, along with our nurses and staff, to ensure that our patients receive high quality and compassionate care."
The physicians from Stony Brook who were selected as New York Magazine's "Best Doctors" include in alphabetical order:
Carole Agin, M.D. – Pain Medicine
Mary Andriola, M.D. – Child Neurology
Thomas Biancaniello, M.D. – Pediatric Cardiology
David Brown, M.D. -- Interventional Cardiology
Steven Carsons, M.D. -- Rheumatology
Eva Chalas, M.D. – Gynecologic Oncology
Harris L. Cohen, M.D. -- Diagnostic Radiology
Alexander Dagum, M.D. -- Plastic Surgery
Deborah Davenport, M.D. -- Obstetrics & Gynecology
Raphael Davis, M.D. -- Neurological Surgery
Irving Gomolin, M.D. -- Geriatric Medicine
Alan T. Kaell, M.D. -- Rheumatology
Arthur Klein, M.D. -- Infectious Disease
Dorothy S Lane, M.D. -- Preventive Medicine
Thomas Lee, M.D. – Pediatric Surgery
Sharon Nachman, M.D. -- Pediatric Infectious Disease
Brian O'Hea, M.D. -- Surgery
Robert Parker, M.D. -- Pediatric Hematology-Oncology
Michael Pettei, M.D. – Pediatric Gastroenterology
John Pomeroy, M.D. -- Child & Adolescent Psychiatry
Eric Rashba, M.D. -- Cardiac Electrophysiology
Lesley Rechter, M.D. -- Family Medicine
Michael Richheimer, M.D. -- Allergy & Immunology
John Ricotta, M.D. -- Vascular Surgery
Todd Rosengart, M.D. -- Thoracic Surgery
Maisie Shindo, M.D. -- Otolaryngology
Richard Sosulski, M.D. -- Pediatrics
Thomas Wilson, M.D. -- Pediatric Endocrinology
Michael Zema, M.D. -- Cardiovascular Disease
Stony Brook University Medical Center is the only academic medical center on Long Island. With 540 beds and 5,100 employees, it is the largest hospital in Suffolk County, and is currently undergoing a major modernization project with the goal to provide state-of-the-art care to the community. Stony Brook University Hospital is the only tertiary care hospital and has the only Level I Trauma Center in Suffolk County, while the Heart Center performs the only open-heart surgery in Suffolk. The Cancer Center attracts patients from throughout the region with innovative diagnostic and treatment facilities. SBUMC initiated the nation's first Pediatric Multiple Sclerosis Center, and is home to Long Island's first kidney transplantation program, which recently completed its 1,000th transplant. The hospital is also the regional referral center for trauma, perinatal and neonatal intensive care, burns, bone marrow and stem cell transplantation, cystic fibrosis, pediatric/adult AIDS, and is home to the Cody Center for Autism and Developmental Disabilities. Together, the School of Medicine and the University Hospital make Stony Brook Medical Center a national leader in progressive medical care.