Opening of Outpatient Cancer Center Set for 2006
6/2/2005
Cancer patients undergoing treatment and others in need of diagnostic imaging services will soon have access to complete outpatient care within one location adjacent to Stony Brook University Hospital (SBUH). Projected for completion in 2006, the Ambulatory Care Pavilion will be an outpatient facility that also houses the Long Island Cancer Center (LICC), including the Carol M. Baldwin Breast Care Center, outpatient medical and surgical oncology, outpatient pediatric oncology, an imaging center, and cancer support services. The facility will foster improved flow of patient care at a location where multidisciplinary clinical teams will collaborate on a daily basis.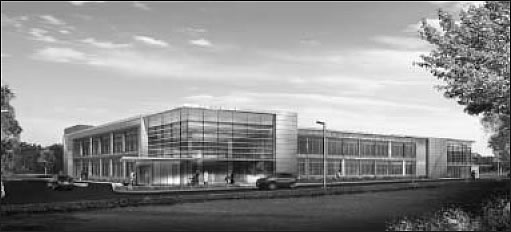 Construction of the two-story Ambulatory Care Pavilion is underway. Its completion will be a timely one, as the LICC and SBUH are in the midst of three successive years of significant expansion of cancer programs. During this period, the LICC has hired more than a dozen new physicians and researchers specializing in cancer, created a full-service Blood and Marrow Stem Cell Transplantation Program for patients who have blood cancers, launched a database for researchers studying the causes of cancer, and initiated breast cancer education programs in medically underserved Suffolk County communities. In addition, the new building will provide needed additional space for established programs such as Pediatric Hematology/Oncology and the Breast Care Center. The availability of a single building for outpatient services will bring together much of the LICC and SBUH's clinical cancer programs, promoting integrated clinical care, a prerequisite to being designated as a National Cancer Institute-Comprehensive Cancer Center. Additionally, as Long Island's population continues to grow, so will the number of cancer cases, adding to the need for Stony Brook to develop more space, services, and additional expertise devoted to cancer care.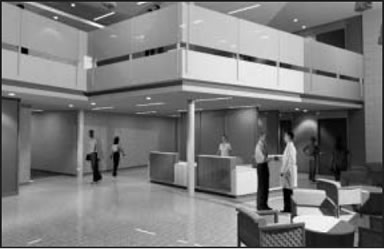 Coordinated Care
Multidisciplinary care will be the norm for cancer patients seen at the center. This builds upon multidisciplinary programs already in place, such as the Lung Cancer Evaluation Center and Breast Care Center. This single setting for outpatient care will improve coordination between surgical, radiation and medical oncologists, and other cancer specialists. For patients who require surgery, other invasive procedures, or need to be admitted to the hospital for additional testing, there will be immediate access to SBUH.
At the center patients will receive the most up-to-date treatments and have access to regional and national clinical trials of promising new treatments. As an academic medical center, Stony Brook University also has the capacity to continue to cultivate collaboration between practitioners and cancer researchers. The expectation is that this leads to use of new targeted therapies for cancer at the center. The outpatient center will also be a convenient referral resource for area physicians, and for patients, a Community Resource Center will provide educational materials and internet access as a means to learning more about specific forms of cancer.