Pediatric Patients At Stony Brook Get a Special Visit From Islander Captain, Alexi Yashin
2/13/2007
Jade Blom, 5, of East Yaphank, and many other children in the Pediatric Units at Stony Brook University Hospital, had a happy visit from New York Islanders Team Captain, #79, Alexi Yashin.
Yashin, a 6'3", 220 lb. forward who is currently sidelined with a knee injury, made a great impression with the children in the Pediatric Intensive Care Unit, the Pediatric Oncology Unit and the Pediatric Unit at Stony Brook by offering signed photos and having his picture taken with the kids in their rooms and at their bedside. Each child that received a visit from the Islander Captain will go home with a special photo and a lasting memory of his visit.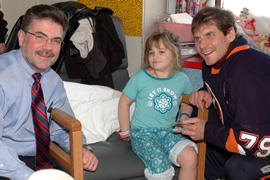 Stony Brook University Hospital CEO, Steven L. Strongwater, M.D., joins NY Islanders Captain, Alexi Yashin, on a visit with 5 year-old Jade Blom of East Yaphank during her hospital stay.