SBUMC Appoints Chief Of Pediatric Surgery To Expand Services In Trauma, Cancer And Infant Care
12/10/2008
Thomas K. Lee, M.D., a specialist in performing minimally invasive surgery in children and infants, has been named Chief of Pediatric Surgery in the Department of Surgery at Stony Brook University Medical Center. Appointed by Richard N. Fine, M.D., Dean of the School of Medicine, Dr. Lee practices within the Departments of Surgery and Pediatrics and is expanding surgical services for children undergoing treatment for various diseases and conditions.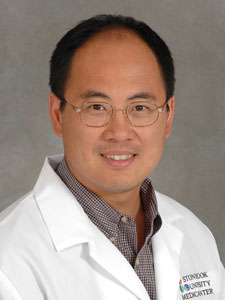 Dr. Lee
and colleagues perform a wide variety of laparoscopic and thoracoscopic surgeries for different medical indications. Minimally invasive surgical techniques often result in better recovery times and less trauma to patients. Dr. Lee is particularly focusing on extending such techniques into the areas of cancer surgery, infant and neonate care, and trauma.
"There are many children in Suffolk County and the region who would benefit from minimally invasive surgery as part of their treatment," says Dr. Lee, also Associate Professor of Surgery and Pediatrics. "We can provide this advanced surgical option in many cases, as well as other comprehensive care the patients need."
Dr. Lee educates and trains medical students and Surgery and Pediatric residents in minimally invasive surgical methods. He is active in the medical center electronic patient record project where he is one of the lead physicians and is Co-Chair of the full-time academic practice committee. Dr. Lee is also an integral member of Dean Fine's faculty advisory group.
In 2008, Dr. Lee was selected for inclusion in the "Best Doctors" listing in New York Magazine, representing the top two percent of physicians in the New York Metropolitan area. He was also included in the Castle Connolly Guide, Top Doctors: New York Metro Area (2007), and the Guide to America's Top Surgeons (2007).
Practicing at Stony Brook since 2001, Dr. Lee received his M.D. degree from the University of Chicago in 1988. He completed his General Surgery Residency at the New York Hospital-Cornell University Medical Center in 1995, and in 1997 completed his Pediatric Surgery Residency at Cardinal Glennon Children's Hospital in St. Louis, MO. Before coming to SBUMC, he was an associate at BSK Pediatric Surgical Associates on Long Island and Queens.
Dr. Lee is board certified in Pediatric Surgery. He has published many articles in journals such as the Journal of Surgical Research, the Journal of Pediatric Surgery, the American Journal of Surgery and Transplantation Proceedings. He a journal reviewer for Transplantation Proceeding, the American Journal of Perinatology and Pediatric Transplantation.
Dr. Lee lives in East Setauket with his wife, Mindy, and their two children, Jacob (13) and Elana (8).