Percutaneous closure of the saphenous vein has proven itself to be a promising alternative to traditional vein stripping surgery for venous reflux. The procedure has become increasingly popular as physicians become more familiar with this treatment and its associated benefits.

THE PROCEDURE ITSELF

Percutaneous closure of the saphenous vein is done by placing a catheter (thin tube) into the saphenous vein to deliver radiofrequency energy or laser energy to the vein wall, causing it to collapse and seal shut. The physician typically makes a single, small puncture near the knee and inserts the slender catheter into the saphenous vein.

The catheter is then positioned near the groin, energized, and slowly withdrawn, sealing the vein shut. There are no stitches, and most patients return to normal activity within a day or two.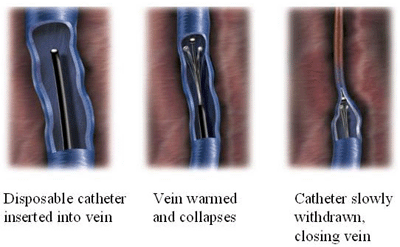 The procedure is minimally invasive and can be performed under local anesthesia on an outpatient (day surgery) basis. Patients have reported feeling little, if any, pain during the procedure. Some common side effects may include temporary tenderness and numbness.
Most patients report a noticeable improvement in their symptoms in 1–2 weeks following the procedure, and experience good cosmetic outcomes with little to no scarring.
As this newly developed procedure becomes more commonly used, more and more insurance companies are covering the costs, when deemed medically necessary.
At Stony Brook, our physicians perform percutaneous closure on an outpatient basis at our new Ambulatory Surgery Center, next to University Hospital.
Dr. Antonios Gasparis is Board Certified in Surgery, with expertise in vascular and endovascular surgery. He is an Assistant Professor of Surgery on the faculty of the Department of Surgery, Stony Brook University School of Medicine. Dr. Gasparis sees patients in our East Setauket office.
For consultations/appointments with our vascular specialists,
please call 631-444-VEIN (8346).