Quality in Palliative Care Leadership Award
10/7/2008
Stony Brook University Medical Center (SBUMC) has just received a Quality in Palliative Care Leadership Award from the National Consensus Project (NCP). SBUMC is one of nine first-ever recipients of the award. The NCP will be presenting this award annually to recognize organizations that have enhanced their palliative care services by implementing the palliative care principals espoused by the NCP. Stony Brook University Medical Center was the only academic medical center selected to receive the award.
"Through this award, we are delighted to spotlight the innovative palliative care programs of our winning organizations," said Betty Ferrell, Ph.D, RN, FAAN and Chairperson of the NCP. "The award winners have a commitment to excellence and should serve as an inspiration to all those striving to enhance the quality of palliative care."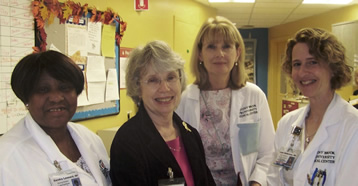 The award-winning Survival and Supportive Care Team at Stony Brook University Medical Center, from left, Sandra Leonard, NP, Anne Coulehan, Pastoral Care, Margaret (Peggy) Melendez, NP, and Dr. Lynn Hallarman, Director of Palliative Medicine.
Lead by Dr. Lynn E. Hallarman, Assistant Professor in the Department of Medicine, Division of Hematology/Oncology, since March 2007, the palliative care program at SBUMC – entitled "Survivorship and Supportive Care" – helps patients cope with the physical, emotional and spiritual symptoms of incurable or life-threatening illnesses. Stony Brook's SOS Care program works with primary care teams to manage difficult symptoms and facilitate challenges related to incurable or life-threatening illnesses.
Working with a team of specialists from medicine, nursing, social work and pastoral care, pharmacy, rehabilitation and nutrition, Dr. Hallarman's focus for the program is on the "whole person." It is designed to prevent and relieve patient suffering, enhance quality of life for patients and their families, and help with difficult decision making, providing compassionate care and guidance for physical, emotional and spiritual needs.
"Palliative care is necessary and comforting for our most critically ill patients and their families," says Dr. Hallarman. "It is important that faculty and staff understand how to provide 'whole person' care that includes relationship-centered communication between patients, families and their care teams, and on helping patients and families become empowered through education and support."
Supportive care may be needed at any stage of illness even while receiving active disease modifying therapies; it focuses on:
Treatment of symptoms such as fatigue, loss of appetite, nausea, and pain (sometimes as side effects of certain therapies);
Establishing goals and setting priorities about care;
Assisting with coordination of care, communication and information sharing;
Assisting with working through the healthcare system; and,
Helping with transitioning to and coordinating home care and hospice, if desired.
Some of the specific efforts by SBUMC faculty and staff, as observed by SBUMC's SOS team include:
A nursing assistant who sang to a patient to help relieve pain and agitation;
A social worker who organized charity hospice care for a dying patient;
A pediatric team who helped a dying child raise butterflies and release them;
A physician who sat with a family while their loved one died; and,
A resident doctor who would not go home until the patient's pain was controlled.
"We are extremely proud of Dr. Hallarman and the entire SOS team for accomplishing so much in such a short period of time," said Dr. Steven Strongwater, CEO, Stony Brook University Hospital. "This is a rapidly growing and innovative field, and Dr. Hallarman and her team are at the forefront."
The other award winners were the Center for Comprehensive Palliative Care in Ocala, Florida; Community PedsCare in Jacksonville, Florida; Hope Hospice and Community Services in Fort Myers, Florida; Hospice of the Western Reserve in Cleveland, Ohio; Motion Picture and Television Fund in Woodland Hills, California; Our Lady of Lourdes Memorial Hospital in Binghamton, New York; St. Rose Dominican Hospital's Palliative Care Acute Care Program in Henderson, Nevada; and Thomas Palliative Care Program in Richmond, Virginia.