Reattaching both hands: a NY first; Surgeons beat the clock after factory accident
4/15/2005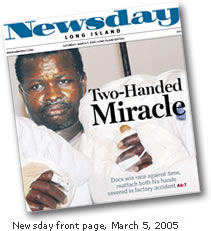 When Arsenio Matias was airlifted to Stony Brook University Hospital after both of his hands were chopped off at the wrists, doctors knew what to do. But did they have time? As Matias entered the emergency room about 90 minutes after his hands were severed by a plastic-forming machine at his job, a team of five surgeons dropped everything, canceling scheduled operations and leaving behind waiting rooms to begin work on their new patient. At that point, Matias had lost almost 40 percent of his blood, four pints in all. But 11 hours later, the physicians would successfully complete what is now believed to be the first simultaneous reattachment of both hands done in New York State. "It's one of the most difficult we've done ... mostly because of the amount of work that has to be done in such a limited amount of time," Dr. Alexander Dagum, lead surgeon for the operation, said on Friday during a news conference, which was also attended by Matias. "You're under the clock." The clock started ticking at around 8:30 a.m. Monday, as soon as Matias, 49, of Wyandanch, was hurt at his job at Ultimate Display International in Bay Shore. A detached hand, if placed in ice, has 12 hours before it can no longer be successfully reattached, Dagum said.
The team began its work by cleaning and cutting away dead tissue from the severed hands and the arms, said Dr. Lawrence Hurst, a hand surgery specialist and the chairman of orthopedics at Stony Brook University Hospital. Next, doctors used clamps and sutures to identify every tendon, artery and vein that could be reconnected. The bones in Matias' right hand were then shortened and fused to the wrist using large pins. This helps the bones grow together, as if they were only broken and not separated. At this point, "the hand is mechanically attached," Hurst said. "But it's still dead." Finally, doctors sewed together the tendons with large sutures and, using sutures the size of a single strand of hair, they knitted together the arteries. It was around this time - the ninth hour - that the hands began to take on their usual color, signaling to the doctors that the operation was successful. News of the double reattachment rippled through the region's medical community. "This is very unusual," said Dr. Martin Posner, chief of hand services for NYU-Hospital for Joint Diseases Department of Orthopedic Surgery. "Most [re-plantations] are digits ... [but] to have it on both sides, in both upper extremities - that's really rare. "
Matias, who has worked at Ultimate Display for 17 years, was a supervisor at the Bay Shore plant. He said he was operating a vacuum form machine, which has parts that help to form plastic and then cut it to size, when his hands were suddenly caught in the machine and severed at the wrists. "I thought the machine had stopped," Matias said Friday. "I saw the hands on the floor ... the blood ... I thought, 'My life is going.'" Bonni Valinoti, co-owner of the company, said co-workers immediately came to Matias' aid, wrapping tourniquets on his arms and putting the severed hands on ice. She called the incident a "tragic accident." Meanwhile, Occupational Safety Health Administration officials are investigating, agency spokesman John Chavez said. On Friday, Matias, a father of six, was moved from the Intensive Care Unit to a hospital bed in orthopedics. In good spirits, he appeared at the news conference announcing the successful outcome, with his hands covered in protective dressings, padded with bandages and supported with a splint. Doctors say Matias faces about a year of rehabilitation, including exercises to regain strength in his hands and increase his range of motion. Dagum said Matias should regain 50 percent of the motion of his hands and 50 percent of the feeling. "If he puts his hand on a hot stove, he'd know," Hurst said. "But if he puts his hand in a pocket and is asked to tell a nickel from a quarter, he probably couldn't tell."
Although that prognosis may sound limiting, doctors said the outcome is still great, considering how much damage had been done in the accident. "You take something that literally is dead," said Dagum, "and all of a sudden, you see life." How they did it The 11-hour procedure doctors used to reattach Arsenio Matias' hands:
PREPARING FOR SURGERY The severed hands, which have been put on ice to preserve them, are cleaned of any dead tissue.
MATCHING UP THE PARTS Clamps and sutures are used to identify all bones, tendons, blood vessels and nerves. Bones then are rejoined with pins. Over time, the bones will fuse naturally.
DELICATE REPAIRS Clamps are removed, and sutures are tied to reconnect the tendons, blood vessels and nerves. Some sutures are so fine (thickness of a hair) that surgeons use a microscope.
CLOSING UP Blood circulation is restored, and the skin is stitched together.
SOURCE: STONY BROOK UNIVERSITY HOSPITAL
Copyright, 2005, Newsday. Reprinted with permission