REUVEN PASTERNAK, MD, TAKES THE HELM AS CEO AND VP FOR HEALTH SYSTEMS OF STONY BROOK UNIVERSITY HOSPITAL
9/6/2012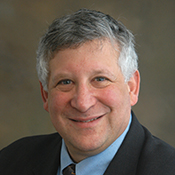 In dual role of CEO and VP for Health Systems, Pasternak will work toward developing robust Stony Brook network
Reuven Pasternak, MD
, assumed his official role at Stony Brook Medicine as Chief Executive Officer (CEO) and Vice President for Health Systems of Stony Brook University Hospital (SBUH) on Tuesday, Sept. 4.
Dr. Pasternak will oversee Long Island's premier academic medical center, with 597 licensed beds, more than 5,500 employees, and more than 1,000 affiliated and credentialed physicians. The hospital is Suffolk County's only Level I Trauma Center and regional tertiary care center, serving as a vital public health safety net for Suffolk County residents, with more than 88,000 visits annually to its Emergency Department.
"Reuven Pasternak is a terrific addition to Stony Brook. He will bring greater unity and focus to the University's clinical enterprise and help Stony Brook Medicine capitalize upon the tremendous synergies of combining research, academics and patient care," said Stony Brook University President Samuel L. Stanley Jr., MD. "He will help build upon the positive growth trajectory and exciting momentum already under way at Stony Brook Medicine."
Dr. Pasternak's newly designed role as Vice President for Health Systems reflects an elevated area of responsibility for the CEO at Stony Brook University Hospital in which he is charged with developing a Long Island-wide network of facilities delivering world-class academic healthcare to the patients in the communities we serve.
"Reuven will be a vital component of our new leadership team that is focused on taking Stony Brook Medicine to the next level as Long Island's premier academic medical institution," said Kenneth Kaushansky, MD, MACP, Senior Vice President, Health Sciences, and Dean, Stony Brook University School of Medicine.
"At Stony Brook, we will work with hospitals and other healthcare facilities to create coordinated networks, providing care in a comprehensive, coherent and consistent, fashion," Dr. Pasternak said. "It will allow us to build more sophisticated programs and have the opportunity to better meet the needs of the patients in our communities."
Dr. Pasternak will work closely with Basil Rigas, MD, DSc, Vice President for Business Development and Dean for Clinical Affairs at the School of Medicine, to provide strategic and operational leadership for clinical growth opportunities, and operational and cultural changes in preparation for healthcare reform. He will also work with
Margaret McGovern, MD, PhD
, Professor and Chair, Department of Pediatrics, and Physician-in-Chief, Stony Brook Long Island Children's Hospital, who serves as Chair of the Governing Board of the Clinical Practice Management Plan at Stony Brook, to coordinate facilities, staff and physicians to foster a contemporary and caring climate of patient-centered healthcare.
"Stony Brook Medicine has established a positive growth trajectory in its clinical enterprise, teaching and research," Dr. Pasternak said. "I'm excited to return to academic medicine and to work with a team of clinicians, faculty and staff who are deeply committed to Stony Brook's mission."
A native of Hempstead, NY, Dr. Pasternak comes to Stony Brook from Inova Health System in Falls Church, VA, where he served for the past four years as Chief Executive Officer of the Inova Fairfax Hospital campus and executive vice president of Academic Affairs for the health system. His leadership role included oversight of Inova Fairfax Hospital, Inova Fairfax Hospital for Children and the Inova Heart and Vascular Institute.
Prior to his role at Inova, Pasternak served as Executive Vice President and Chief Medical Officer of Health Alliance of Greater Cincinnati, a system of eight hospitals and a 200-physician primary care network. Pasternak spent the majority of his academic career at Johns Hopkins, in the Departments of Anesthesiology and Critical Care Medicine, where he served as Vice Chair for Clinical Affairs, and the Departments of Pediatrics and Health Care Policy and Management.
Dr. Pasternak received his medical degree from Duke University School of Medicine. Following his internship in Pediatrics at the University of Minnesota, he completed his residency in Pediatrics and Community Medicine at the University of North Carolina. He completed his fellowship in Pediatric Critical Care Medicine at the Johns Hopkins University School of Medicine, where he also completed his residency in Anesthesiology.
Dr. Pasternak's wife, Nancy, is a native of White Plains, NY. She completed her clinical training as a pediatric nurse practitioner before moving to senior administrative positions in nursing, home care and other activities at Johns Hopkins and Cincinnati Children's Hospital. She most recently worked as a consultant based in northern Virginia.
The Pasternaks have three sons: Andrew, an intelligence and news analyst in northern Virginia; Rob, a musician in New York City; and Jordan, an engineering student at Union College.
About Stony Brook Medicine:
Stony Brook Medicine integrates and elevates all of Stony Brook University's health-related initiatives: education, research and patient care. It includes five Health Sciences schools — Dental Medicine, Health Technology and Management, Medicine, Nursing and Social Welfare — as well as Stony Brook University Hospital and 50 community-based healthcare settings throughout Suffolk County. To learn more, visit
www.stonybrookmedicine.edu
.